Motorway tyre pressure checking scheme extended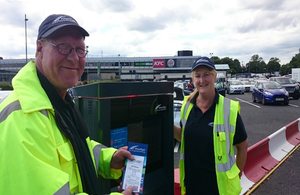 A safer roads service that allows car, van and lorry drivers to quickly check their vehicle's tyre pressures before resuming motorway journeys has been extended until the end of the year. The project was launched in April 2015 for an initial three month trial period, but was so successful – with more than 1,000 vehicles being tested a week – that the decision was taken to continue the scheme through to Thursday 31 December.
Highways England, the government company that operates the country's motorway network, teamed up with motorway services operator Welcome Break and drive-over tyre technology developers WheelRight Ltd to run the free service within the motorway service area between junctions 16 and 15 of the southbound M6 at Keele in Staffordshire.
The pilot project, initiated by Highways England's national incident prevention team, aims to make drivers aware of any tyre issues before they get back on the motorway, reducing the potential for anything from minor tyre-related breakdowns to high speed blowouts. Keele was chosen because Highways England incident figures show that this area of the M6 is particularly prone to tyre-related breakdowns and incidents.
Under the scheme, drivers stopping off for a break at the services can drive their lorry or car through one of two dedicated sensor stations which instantly assess each vehicle's actual tyre pressures. The sensors then provide the driver with a printout detailing the inflation of every tyre.
The whole process takes just 30 seconds with the sensor stations offering a self service facility – although WheelRight's on site ambassadors are on hand to offer help and advice to all drivers.
Both the printed readout and the ambassadors give advice on the correct pressures for individual vehicles. Inflation facilities for both lorries and cars are also provided at the service area, so drivers can take immediate action in the event of a poor tyre pressure reading.
"The primary cause of commercial vehicle tyre failure is under inflation. Tyre-related problems are a major factor behind routine breakdowns and other, more serious incidents on our motorways and major A roads, leading to congestion, injuries and in some cases fatalities," commented John Walford, Highways England's incident prevention manager. "The associated costs, particularly in terms of congestion, are a brake on economic performance and this project is tackling the issue head on by alerting drivers to issues and allowing them to sort those out before leaving the services and resuming motorway journeys."
Rob Mckie, chief executive officer at Welcome Break, added: "We aim to be at the forefront of our sector and ensure customers have a high quality experience at our sites every time. Part of this is ensuring drivers are ready to continue their journeys safely after they leave us which is why WheelRight was such an interesting opportunity.
"It's gone down very well with customers and could potentially prevent a major accident, making it an easy decision to extend the project in Keele," Mckie continued.
Around 3,600 tyre or wheel-related incidents occur on England's motorways and major A roads every month. Government figures suggest 1 in 12 HGV tyres is dangerously underinflated with the figure 1 in 8 for cars.
The WheelRight pilot at Keele is free to car, van and lorry drivers alike. In addition to participating in this tyre pressure project, Highways England's incident prevention team is also investigating ways of quickly scanning vehicles, especially lorries, for other issues such as tyre tread depth, overheating brakes or axles which can cause lorries to break down suddenly, leading to congestion.