Motoring association NAF tests Nordic winter tyres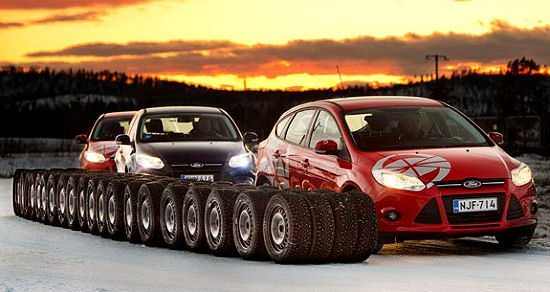 The Norwegian motoring association NAF (Norges Automobil-Forbund) has conducted a test of Nordic market winter tyres. The products coming under the NAF microscope typically differ from cold weather tyres sold in the UK and Western Europe in terms of compound – a softer compound is used for Nordic winter tyres – and more than half also featured studs.
Belonging to this latter category were 13 tyres: the Bridgestone Blizzak Spike-01, Continental IceContact, Dunlop Ice Touch, Gislaved Nord Frost 100, Goodyear Ultra Grip Ice Arctic, Hankook Winter I*Pike RS, Jinyu Winter yw53, Michelin X-Ice North 3, Nokian Hakkapeliitta 8, Nordman 4, Pirelli Ice Zero 6, Sunny Winter-Grip SN386 and Vredestein Arctrac. A dozen further non-studded models rounded out the test: the Bridgestone Blizzak WS70, Continental VikingContact 6, Dunlop SP Ice Sport, Goodyear Ultra Grip Ice2, Kumho I'Zen KW31, Maxxis Arctictrekker, Michelin X-Ice XI3, Nokian Hakkapeliitta R2, Pirelli Icecontrol Winter, Sailun Ice Blazer WSL2, Sunny Snowmaster SN3830 and the Vredestein Nord-Trac 2.
All candidates – with or without spikes – were tested in a total of five disciplines, which were weighted according to their perceived importance. Performance on ice contributed to 40 per cent of the total result, performance on snow 20 per cent, in the wet 15 per cent, and dry performance ten per cent. Comfort and cost-effectiveness contributed a further combined 15 per cent to the total result. Each of these main categories included a number of sub-tests, such as braking distance, traction, roadholding or rolling resistance.
Under the studded tyres, the Nokian Hakkapeliitta 8 took top honours, receiving an average rating of 8.8. Second place was jointly held by the Continental IceContact and Pirelli Ice Zero, which both scored an average of 8.6 points. The Goodyear Ultra Grip Ice Arctic came in fourth with 8.4 points. The joint victors in the test of non-studded tyres were the Goodyear Ultra Grip Ice 2 and Nokian Hakkapeliitta R2, which both received an average of 8.2 points. Runners-up were the Continental ContiVikingContact 6 and the Michelin X-Ice XI3, which both achieved an average score of 7.8 points. The wooden spoon in both categories went to Sunny, which scored an average of 5.9 points in the spiked category with its Winter-Grip SN386, and 6.1 points in the non-studded category with the Snowmaster SN3830. The NAF commented that "Snowmaster sounds like a name that would fit well on Norwegian roads. The truth is, however, is that the Sunny Snowmaster is so bad on ice and snow that it cannot be recommended for Norwegian conditions."