Atlas Copco boost Bloodhound Project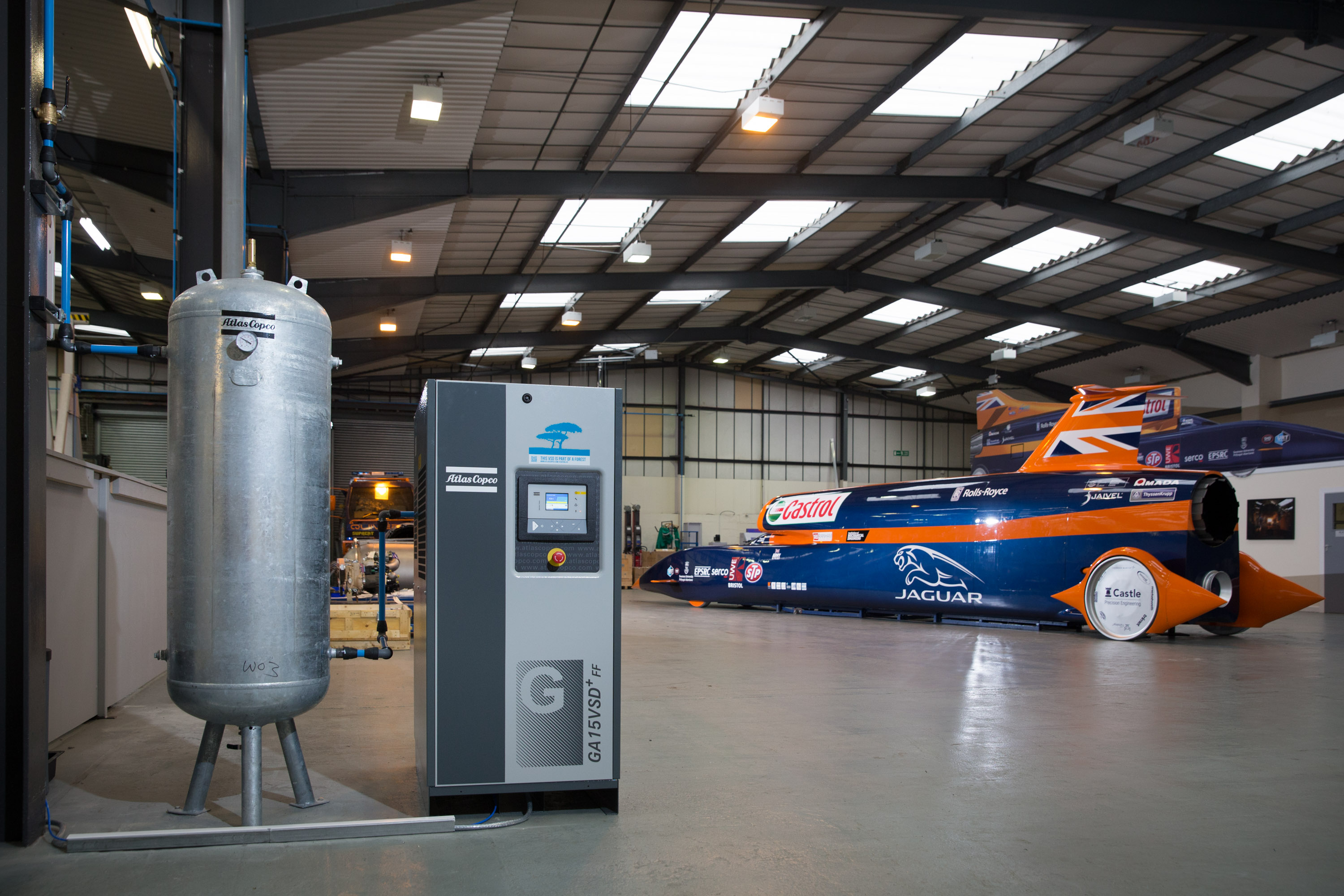 The Bloodhound Project, an ambitious British bid to set a new world land speed record in a supersonic car, has received a power boost from Atlas Copco UK. The company has supplied a range of workshop compressors and air tools to the Bloodhound Technical Centre in Bristol and its associated test facility at Newquay Aerohub.
The equipment will play a pivotal role in the development of the Bloodhound Supersonic Car, the jet engine and rocket powered racing car, as the team prepares for an attempt to set a new 1,000mph world land speed record in 2016.
At 13.5m in length and weighing 7.5 tonnes, the car will need to produce an astonishing 135,000 thrust horse power to reach mach 1.4, which is six times more power than all the cars on a Formula 1 starting grid combined.
Chris Dee, the Bloodhound Project's lead assembly and build engineer, explained: "We looked at the premium manufacturers of compressed air systems and tools that our 30-strong engineering team could rely upon to help us meet our performance target deadlines, bearing in mind all operations are conducted under the most extreme conditions. It was agreed that Atlas Copco had a global reputation for high quality and offered the widest range of equipment suitable for our needs."
The Bristol facility has been supplied by Atlas Copco Compressors with a GA15VSD+ FF full feature rotary screw compressor, together with filtration and a 5,000 litre air receiver with all components linked together via AIRnet modular aluminium pipework. At the same time, the Bloodhound Project's Newquay Aerohub site has taken delivery of a GX4 fixed-speed compressor, plus a 250 litre receiver destined for general engineering duties.
Both workshops have been supported with a range of assembly air tools, hosing and couplings, provided by sponsor Atlas Copco Tools for vehicle build and test operations, initially for the assembly and fabrication on areas of the build, such as assembling the stabilising fin and fitting the titanium floor under the supersonic car's 13.5m long carbon fibre and metal framed monocoque body
Following testing in the UK, Bloodhound SSC will be tested on the Hakskeen Pan in the Mier area of the Northern Cape, South Africa, later in 2015. A track 12 miles long and two miles wide has been cleared in preparation for a series of test runs held over several months to achieve speeds to break the sound barrier which, depending on atmospheric temperatures, is around 750mph (1,228km/h), and the current land speed record of 763mph (1,221km/h). Then in 2016, the Bloodhound team will attempt to travel 33 per cent faster at 1,000mph (1,609km/h).