Rema Tip Top launches M-RCF repair patch line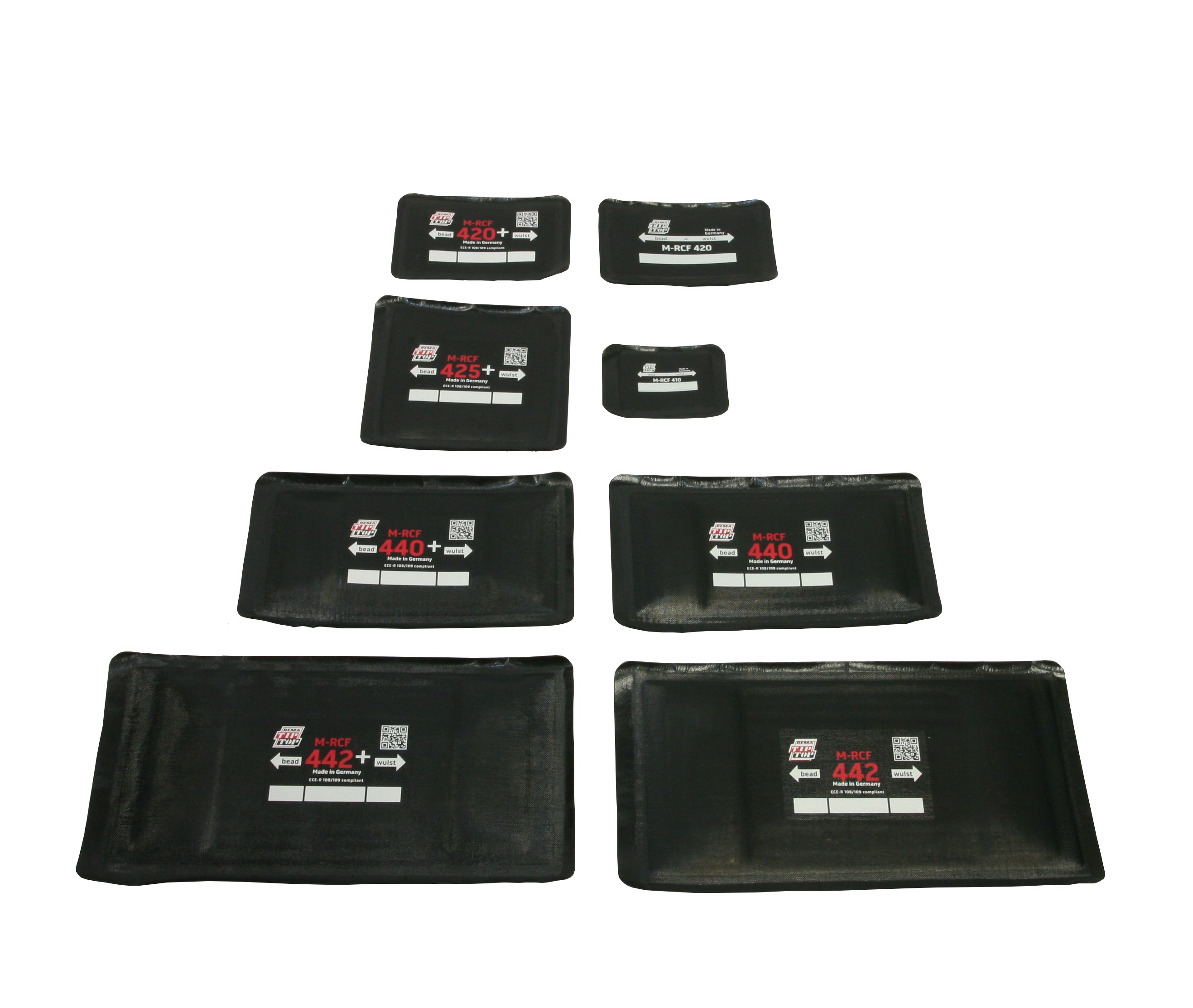 Rema Tip Top, purportedly the world's leading manufacturer of tyre repair systems, has launched a new repair patch line billed as an "environmentally friendly, reliable and a trend-setting" alternative.
The M-RCF 400, which was previewed at the Reifen show in Essen earlier in 2014, is designed to offer both ecological and economic advantages for the repair of car and truck tyre. One such advantage is the fact that the patch can be fitted without the need for additional solvent-containing chemicals. The associated products needed for repair are also free of solvents. Full production of these environmentally-friendly patches commenced in September and they are now available to retreading operations and tyre service specialists.
M-RCF stands for Modular Radia Cement Free. Because it can be used without solvent-based products, solvent fumes, extraction systems, workplace measurements and other disadvantages associated with fitting patches are no longer a problem, according to Rema Tip Top. Instead, company representatives argue, damage can be quickly and easily repaired in a single-stage vulcanization process (hot vulcanization of the patch) without cement having to be applied. A high degree of efficiency in the repair process – as well as simplification of the work steps involved – means that up to 40 per cent time saving.
The layers in the M-RCF patch are pre-produced in a constant way and subsequently combined together. This reduces the number of differing types of patches required by the customer to a minimum. In spite of this, all sizes of damage can be dealt with, while at the same time warehousing stocks can be reduced.
The M-RCF patches exhibit a high degree of bonding strength with considerable reserves and can therefore cope with the often considerable stresses that tyres are exposed to. Since no solvents are used, no drying and wait times are necessary before fitting the patch.
As one of the largest bicycle, car, commercial vehicle, motorcycle and even OTR tyre repair patch suppliers in the world, Rema Tip Top sees its latest innovation as part of its though leadership in the wider market place. This kind of development, they explain "actively contributes to and drives change in the automobile sector through its safe, environmentally-friendly and efficient products and systems solutions – a core capability given the need for climate protection, emission control legislation and finite oil reserves."
However, the company doesn't take the credit for this development alone. Instead Rema Tip Top points to its close partnership with both the tyre and automobile industry and with specialist suppliers. The guiding principle here is: "We manage your workshop – with systems expertise and know-how". All this in order to offer a reduction in costs and handling times: "Our M-RCF patches have been very much in demand with our customers since their introduction at the Reifen messe trade event in the Spring of 2014", notes Detlef Witt, global product manager at Rema Tip Top, adding:
"Long-term trials in the field at retreading operators were carried out in a most satisfactory manner, thus confirming our own internal laboratory results. Our customers have without exception given us a set of very good references for this product series and we have already applied for a patent for our innovation."
As well as the "RCF System Box" heating carry case used to preheat the repair patches, associated products include the well-known RCF Fast Dry Buffer and the RCF Inner Liner Sealer.