Purchasing a tyre changer? – Tyre Bay Direct highlights 10 points to consider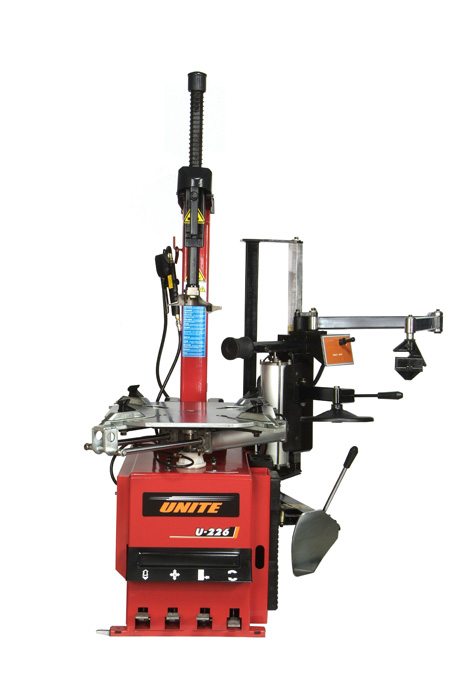 Tyre Bay Direct is offering motor traders exclusive insight into what it says are the top ten factors to consider when purchasing a tyre changer. The tyre consumables and garage equipment retailer has over half a century of experience in the tyre industry and identifies tyre changer information as one of its most popular custom inquiry topics. This inspired the company's team of experts to create an insider's guide covering everything a buyer needs to know about purchasing this specialist equipment.
Leigh Stote, sales and marketing director at Tyre Bay Direct, said: "We've been in the business of tyres for over 50 years and during this time we've dealt with every form of customer inquiry under the sun. Tyre changers are by far one of the most considered purchases which inspired us to put together a comprehensive guide which sets the record straight once and for all."
There are several different types of tyre changer on the market – semi automatic, fully automatic, assist arms and leverless. Deciding which type to go for is the first step to making an informed purchase.
"Time is money and the faster a tyre can be changed the better," writes Tyre Bay Direct. "Depending on individual requirements tyre machines will offer users different average changing times. For small scale garages it could be a budget friendly idea to purchase an economy model with a lengthier fit time. The Unite U201 is a great semi-automatic option. For garages and fleet management companies with a rapid turnover of vehicles investing in a slightly more expensive yet significantly more efficient machine will soon pay for itself."
When it comes to purchasing a tyre fitting machine, Tyre Bay Direct strongly advises buyers to choose quality equipment from a trusted supplier that can offer the aftersales support as well. As well as increasing longevity this will also ensure the safety of employees as they fit new wheels and the ability to maintain your business should a breakdown occur. Another critical factor to consider is what vehicle types a buyer will be servicing. "Trucks and busses will require a commercial tyre changer such as the Unite U290 whereas passenger cars, motorcycles and light commercial vehicles require a less heavy duty machine."
Budgets are always an important factor which is why Tyre Bay Direct says it is committed to offering its customers the best deals on the market. And wheel clamping range dictates the size of tyres that can be changed. 20 inches is the smallest dimension, with 24 inches noted as the most versatile size. The Unite U226 is Tyre Bay Direct's flagship 24 inch model. 26 inch and 28 inch models are also available.
For those wishing to use their tyre changer as a multipurpose piece of equipment, looking at motorcycle adaptor compatibility will instantly boost a business's range of services. "The Unite Motorcycle Adaptor is an affordable add-on which has been designed to complement the rest of the Unite range," shares the company. For buyers searching for a state-of-the-art tyre changing machine there are a number of helpful additions to look out for. These include a perfectly positioned bead roller, fast inflation system and pneumatically controlled rear tilting column.
Buying from a trusted retailer will greatly enhance the overall purchasing experience. "Established and well reputed retailers such as Tyre Bay Direct offer comprehensive product descriptions, clear cut pricing, exceptional customer service and lighting fast shipping."
A tyre changer is a significant investment and as such, Tyre Bay Direct advises all buyers to confirm the existence of a manufacturer or retailer warranty before making a purchase. This offers the complete peace of mind that should anything break or malfunction the issue will be resolved quickly and cost effectively. When purchasing Unite machinery from Tyre Bay Direct all mainland UK buyers enjoy a 24 month parts warranty and 12 month labour warranty.