Student wins RAC design award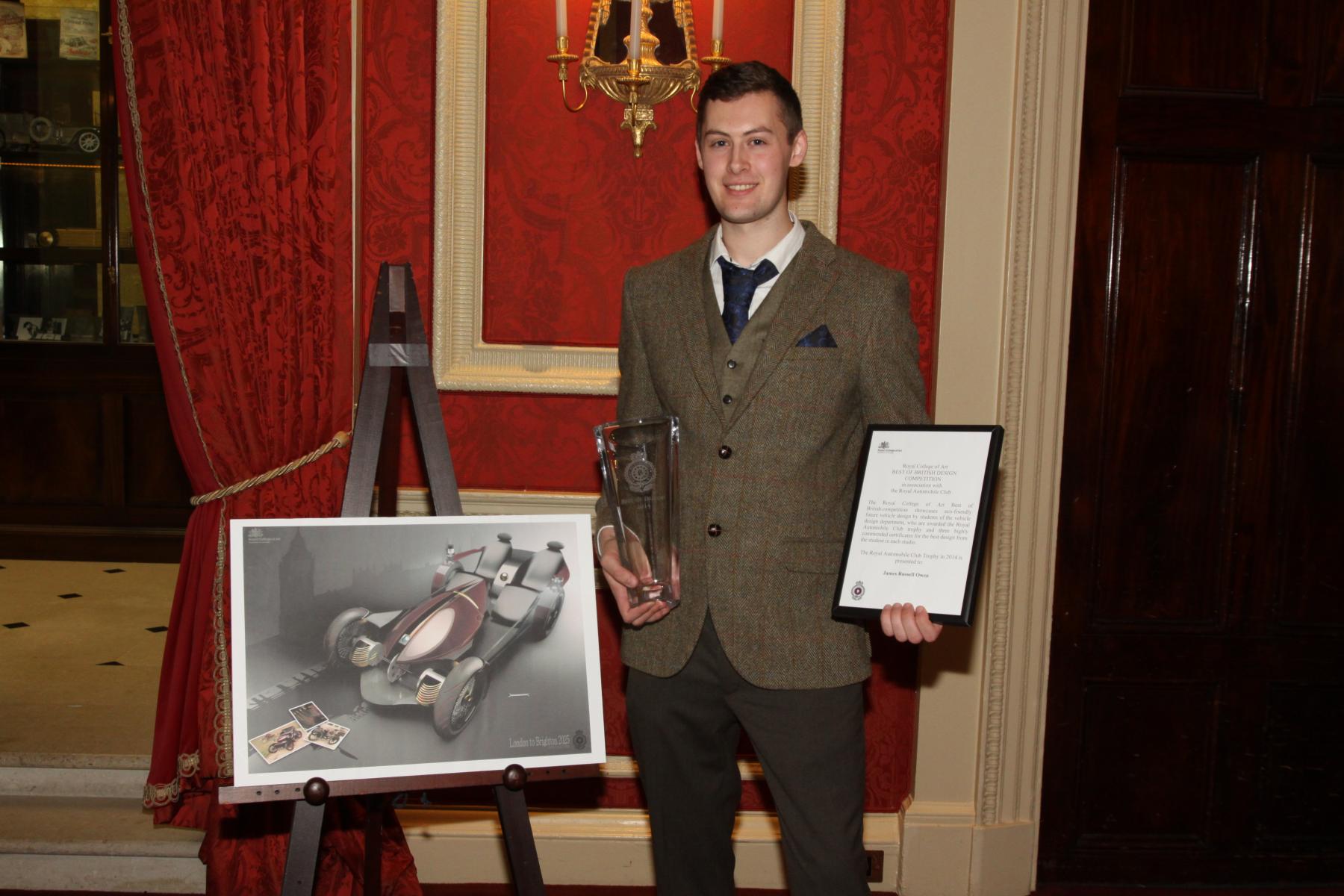 James Russell Owen (24), a student at the world-famous Royal College Of Art (RCA), has won the Royal Automobile Club's 'Best of British Design' Award . Owen informally entitled his design 'Wolseley Voyager' and took the 1899 Wolseley Voiturette – a fascinating pioneer British motor car – as part of his inspiration.
The Royal Automobile Club laid down the challenge to RCA first-year students on its Vehicle Design course to design an eco-friendly version of a famous car in its British Design Competition.
This coincides with the Club's leading involvement in London Motor Week, and the world-famous Bonhams London to Brighton Veteran Car Run, which takes place on Sunday 2 November. The original Wolseley Voiturette is certainly an eligible vehicle to take part.
The award was made at a ceremony at the Pall Mall clubhouse, and the prize was presented by Michael Quinn, whose grandfather Sir William Lyons had a legendarily intuitive design sense.
Adding their congratulations on the night for the students' efforts were working designers from McLaren Automotive, Land Rover, Ford and Jaguar.
The aim was to conceptualise a car that might participate in a Brighton to London return run of 2025.
Students were encouraged to develop their own concepts for a high quality exterior design, drawing from the history of car design, while also identifying potential new design methodologies. The assignment enabled entrants to demonstrate drawing and presentation skills for public display.
"I enjoy studying art and design and have a passion for cars as I used to work as a mechanic when I was 16," said James, who hails from Cornwall. "So I fused my love of cars and interest in design and went forward to do a Bachelor's Degree in Automotive Design.
"I am absolutely thrilled my design was selected as the best fulfilment of the Club's brief. This was a fantastic opportunity to be truly creative while maintaining a deep awareness of future demands and a strong element of tradition. It's what British car design should be all about."