Falken offers on/off-road truck tyres to UK mixed use operators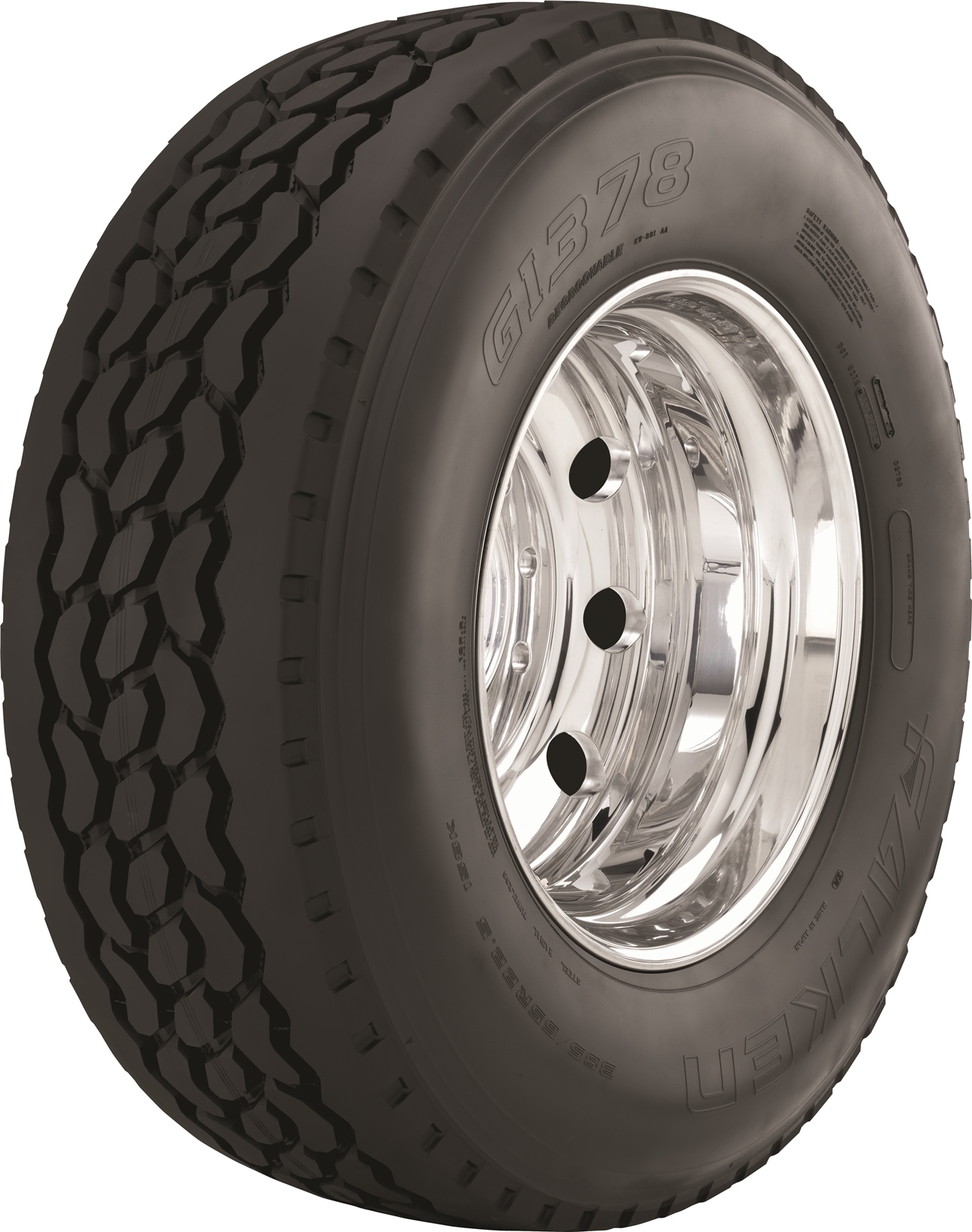 Falken is bringing its latest on/off-road truck tyres to the UK. The Sumitomo brand says it is building on the popularity of its products in the construction sector in the US, where the M+S marked and regroovable GI388 and GI378 tyres are already available. Falken is targeting operators seeking affordable yet resilient truck tyres, versatile enough to cope with the growing market demand for mixed usage on a daily basis.
The tyres have derivatives for drive, trailer and steering axles, and Falken says its range is also capable of handling the higher weights typically associated with Euro VI trucks, with ratings of up to 13,000kg.
Falken has emphasised longevity and lower tyre life cost in the products, using a robust casing incorporating heat resistant inner rubber layers topped with a low abrasion compound. Falken has also specified stone ejectors to prevent foreign objects becoming trapped in the grooves and penetrating the tyre belts, minimising the risk of corrosion that can prematurely end a tyre's operating life. As a further line of defence, rust inhibitors are standard across the range, underlying Falken's intention to use technology where it can add value to the operator.
To prevent damage from scuffing kerbs in tighter operating environments and to guard against less careful end users, Falken has specified sturdy sidewall protection bands. "We know from talking to operators that tyre failures are costly and our tyres are packed with sensible design features to ensure minimal downtime and extend the life of the tyre," says Falken's UK and Ireland director, Matt Smith. "This value proposition from a trusted brand should be relevant to any operator in sectors such as construction or municipal where no-nonsense savings are key to fleet cost management."
For all year round usage, the deep tread profile provides good traction and the circumferential serrated grooves and deep notches help progress when grip is at a premium.
The new Falken GI388 is available now in the following three dimensions: Falken GI388 is available now in the following three dimensions:
315/80R 22.5 156/150K
12R 22.5 152/148K
11R22.5 148/145K
The GI378 for steering axle tyres and trailers is initially available in the following sizes:GI378 for steering axle tyres and trailers is initially available in the following sizes:
385/65R 22.4 158K
425/65R 22.5 165K
445/65R 22.5 168K