BFGoodrich to launch "most advanced" light truck tyre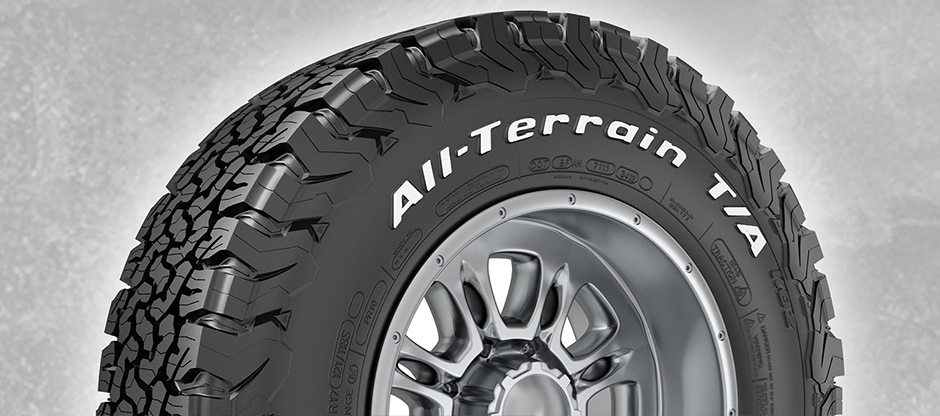 The launch date for the successor to the BFGoodrich All-Terrain T/A KO has been announced. The tyre maker claims the new All-Terrain T/A KO2 will be its "most advanced light truck tyre ever" and has scheduled its North American introduction for 1 November; it is likely that UK drivers will need to wait until 2015 before picking up a set.
"Engineered from BFGoodrich's championship off-road motorsports racing technology, the KO2 delivers exceptional toughness, durability and traction for traversing harsh conditions, including gravel, dirt, rock, mud and snow," shared BFGoodrich in a product launch statement. "The new KO2 will give consumers the confidence to take on the toughest challenges for work or play."
BFGoodrich says the All-Terrain T/A KO2 is the first consumer tyre to incorporate CoreGard, a trademarked technology said to offer "unmatched toughness against sidewall splitting." Compared to the current KO, the new tyre is reportedly 20 per cent stronger in this critical off-road performance area. Additionally, the KO2 is said to last twice as long on gravel roads and 15 per cent longer on asphalt. And in terms of performance, the KO2 gives ten per cent greater traction in the mud and 19 per cent greater traction in the snow compared to the previous-generation tyre. The new range carries the 3PMSF symbol.
The All-Terrain T/A KO2 enjoys a rich heritage, being the direct descendent of the tyre BFGoodrich took to Baja in 1976 with the intention of developing the toughest all-terrain radial tyre on the market. "Thirty-eight years ago, BFGoodrich launched a tyre that created the all-terrain category," commented Dan Newsome, BFGoodrich Tires country marketing manager for Light Truck Tires. "Just a year later, the company launched the original KO, which defined the all-terrain tyre category for decades. BFGoodrich is once again unleashing a game-changer that will take on anything 'playground Earth' has to dish out. It grips better on mud and snow, while lasting longer on gravel and asphalt. The KO2 is designed as a tyre that will pose no boundaries for drivers taking on a new world of adventures."
In developing the KO2, the tyre maker's engineers borrowed heavily from the BFGoodrich Baja T/A KR2, a tyre fitted to nine of the top 10 finishers in the 2014 Tecate Score Baja 500. Key stated features of the KO2 include:
Tougher Sidewalls: The KO2 uses CoreGard technology developed in the Baja T/A KR2 for split and bruise-resistant sidewall rubber and a thicker, extended shoulder to prevent sidewall failures. Computer modelling was used to predict object paths and create a sidewall design most likely to deflect protruding objects, reducing the chances of splits and snags. The result is a tougher tyre as consumers take on trails of various conditions.
Longer Tread life: The KO2 has a new tread design and rubber formulation that helps it last twice as long on gravel and 15 per cent longer on asphalt than the previous tyre. The tread rubber has been optimally blended to reduce chips and tears on gravel. A new footprint shape and interlocking tread design provide more uniform wear over the long haul. Special stone ejectors push objects out of the tread to reduce drilling into the tyre.
Aggressive Traction: And when BFGoodrich states aggressive traction as a KO2 quality, it doesn't mean the tyre grips and pulls in a way that may earn it an ASBO. Rather, the KO2 possesses a range of tread features for better mud and snow traction. Side-Biter lugs in the sidewall improve traction in mud, snow and rocks. Raised bars in the shoulder help release compacted mud for better traction in soft soil. 3-D sipes create biting edges for better snow traction.
"The KO2 has an obvious appeal for the serious off-road enthusiast," said Newsome. "It's also expected to appeal to anyone who regularly faces challenging gravel, dirt or snow-covered roads. The KO2's toughness, durability and traction – as well as its improved tread life and great road manners – deliver strong benefits, whether for work, play or just to get home."
An initial range of 12 KO2 sizes will be released in North America on 1 November, with additional sizes coming next year. KO, incidentally, stands for Key benefit On- and Off-road.