Workshop services a Continental focus at Automechanika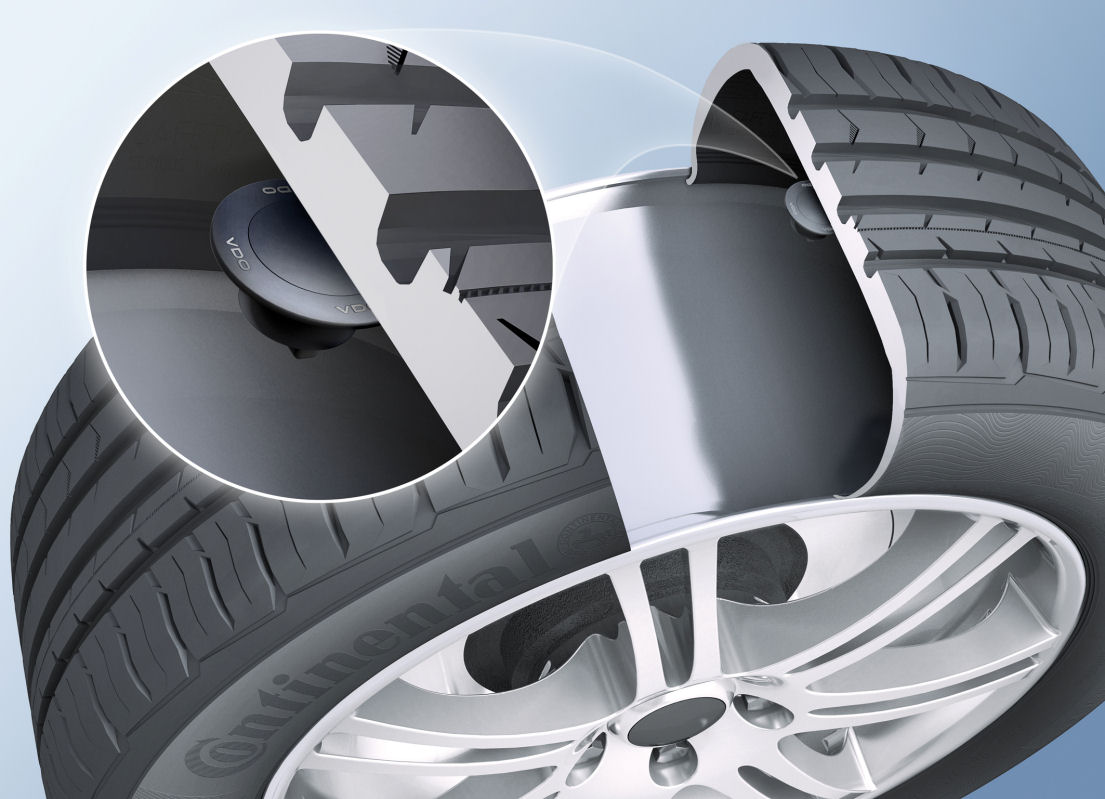 Continental aims to place workshop services centre state at the upcoming Automechanika show in Germany and demonstrate that, now more than ever, the company embodies the formula that "top-quality products + A to Z service = success for workshops." Amongst the products Continental will present in Frankfurt am Main between 16 and 20 September are tyre pressure monitoring sensors, belt drive components, air springs and diagnostic devices. The company also promises a number of new additions to its product portfolio.
The highlight from Continental's VDO brand at Automechanika will be the VDO REDI-Sensor for Europe. The company says this sensor for the latest-generation tyre pressure monitoring systems is designed to simplify tyre servicing for workshops, its introduction coinciding with regulatory changes that will see tyre service providers dealing with TPMS much more regularly. The sensors, which are approximately the size of a ten pence or 50 euro cent coin, are bonded to the inside of the tyre, and as they are already programmed at the factory the workshop does not have to perform the programming itself.
Automechanika will also serve as a showcase for the VDO line of diagnostic products, which Continental uses to supply automotive workshops with high-performance multi-brand diagnostic devices and information for fault diagnostics and repair work.
With its ATE brand, Continental supplies wear and spare parts, testing devices, specialist tools, a solid, single-source knowledge base, and high-quality services for brake servicing – one of the most important sources of revenue for automotive workshops. The range of OEM-quality ATE products covers all the relevant vehicle brands worldwide, and includes wear and hydraulic parts, brake fluids, and electronic components. As with original equipment, special importance is attached to product quality and safety for all ATE products. Continental says ATE will present a strong portfolio of services and brake products at Automechanika. The stated product highlight will be the ATE ceramic brake linings, which give drivers the choice to opt for brake linings that generate little brake dust and enable exceptionally comfortable braking.
The ContiTech Power Transmission Group will premiere a new product at Automechanika; its new accessory drive kits complete with V-ribbed belts and spanners. ContiTech is also systematically expanding its range of belt drive components. Visitors to the stand will also be able to test a new smartphone app that provides general and technical data about the products. This gives workshops another way of easily calling up the product information they require. For detailed information and installation tips, the app is linked to ContiTech's online service function, the Product Information Center (PIC). An optimised version of the PIC will go online in 16 languages this coming autumn.
ContiTech Air Springs Systems is expanding its range of air spring products for the replacement market, and Continental says this continuous portfolio enlargement is part of ContiTech Air Spring System's current strategy. By the time of Automechanika 2014, the company will be able to supply more than 2,000 air spring references worldwide. The basis for this is formed by three standalone brands – the premium ContiTech brand, with its products that are manufactured as original equipment items, and Phoenix and Prime-Ride, which the company says offer an alternative in the replacement market to copied air springs.
ContiTech Air Spring Systems also offers a comprehensive service to customers in the replacement market. For the ContiTech and Phoenix brands, this means that a product in stock can be delivered to dealers upon request within 48 hours within the European Union. Digital services such as product labeling with a Global Trade Item Number (GTIN) and additional languages for the air spring smartphone app are now also available to customers in Europe.