Ultraflex tech now present in Michelin trailer tyre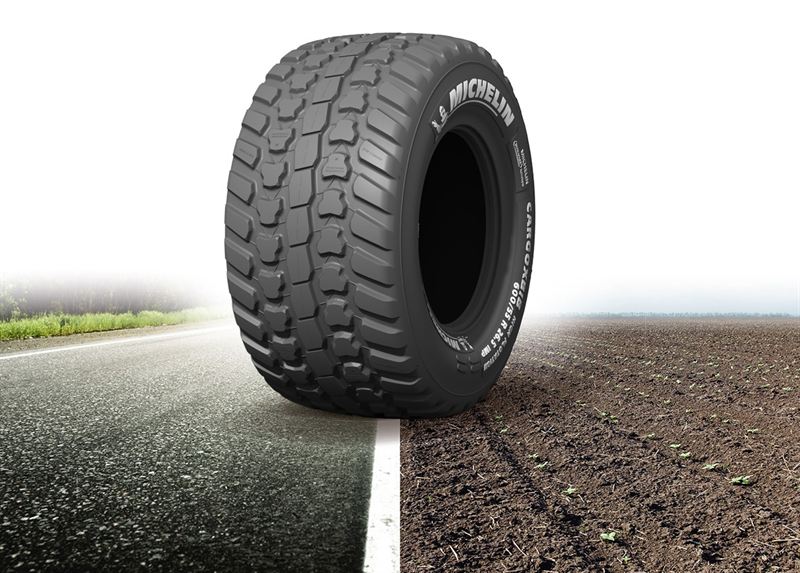 Michelin has expanded its range of Ultraflex technology tyres with the launch of the CargoXBib High Flotation tyre for trailers and farm machinery. The product is the first trailer tyre containing the technology, which is designed to offer farmers increased productivity and profitability through lower operating pressures. The manufacturer says dedicated agricultural trailer tyres could be an attractive alternative to remould truck products, as farmers come under increasing pressure to increase yields with greater efficiency.
The new tyres can operate at pressures ranging from 0.8 to 4 bar and can be adjusted depending on the type of job the trailer is undertaking and the soil conditions on the day.
Mike Lawton, commercial director of Michelin's Agricultural tyre division, says: "Trailer tyres need to be able to withstand intensive use in fields and on roads, carrying heavy loads – all whilst protecting the soil they are working on. Savvy farmers have long realised the benefits of using dedicated agricultural trailer tyres for this type of work, rather than remould truck tyres. Our latest generation CargoXBib High Flotation tyre simply extends this performance gap even further.
"The Ultraflex casing allows pressures to be set as low as 0.8 bar in the field and as high as 4 bar on the road, and are specifically designed to complement central inflation systems. Even on trailers without this type of system fitted, we recommend an average pressure of 2.5 to 3 bar – still significantly lower than the 4 to 5 bar required on conventional trailer tyres. Given that low pressures equal higher crop yields, we expect a lot of interest in this new tyre range."
The new Michelin tyres have a footprint 17 per cent larger, on average, at 2 bar and 37 per cent larger at 4 bar than conventional trailer tyres. This improves grip and soil protection. It has been designed with rounded shoulders to minimise ground cover damage and offer greater resistance to wear and cargo shifting during road use. The multi-angle, non-directional tread blocks guarantee good grip on sloped ground and even wear – this in turn makes it easier for the tyres to rotate so they use less fuel, whilst increasing mileage.
The new tyre range features a continuous central rib to ensure superior wear resistance, improving its performance on the road. A new, even more effective self-cleaning tread pattern also ensures mud is evacuated over a shorter distance – up to three times less, Michelin says – than with the previous generation CargoXBib tyres.
The new CargoXBib High Flotation tyre will be available in the UK as both original equipment and on the replacement market from Q1 2015. Ultraflex technology is already present in Michelin's AxioBib and XeoBib tractor tyres, CerexBib harvester tyres and SprayBib fitments for sprayers.
akb
Pic: Mich_CargoXBib
Cap: Michelin's new CargoXBib High Flotation tyre
Textbox: