Michelin launches X-Straddle 2 port tyre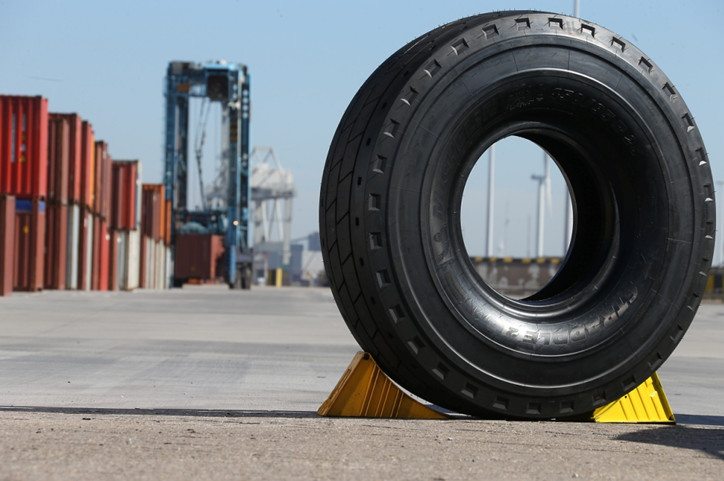 Michelin has launched its X-Straddle 2, which has been designed to make marine terminal operations "safer while increasing productivity by more than 30 per cent".  According to Michelin X-Straddle 2 delivers all the benefits of radial technology to improve marine terminal operations.
The new tyre is designed in 16.00 R25, for single spreader straddle carriers. For double spreader straddle carriers, Michelin has the size 480/95 R25 option. The product is said to be already available in both the original equipment and replacement markets.
As we have seen the primary design goals of the new tyre are enhanced safety and productivity. Safety improvements come from protective belts on the sidewalls, combined with a narrower width and new bead region design, reportedly making it more robust and providing operators with greater reliability as well as enhanced safety. The narrower grooves are designed to reduce the risk of objects lodging in the tread. Lastly, there is improved grip, handling and stability and it is also easier to mount and dismount on wheels during tyre maintenance and change operations.
Productivity in port operations depends on the ability to move more containers faster and more safely. Compared with the previous-generation Michelin X-Straddle, the new tyre offers a 17 per cent increase in top speed (from 30 to 35 km/h) and a 25 per cent increase in per-hour distance (from 12 to 15 km/h). At the same time, the new tyre's load capacity is 7 per cent higher, up from 14 to 15 tonnes per tyre. All this can increase the theoretical productivity of the tyre by more than 30 per cent compared with its predecessor.
Increased longevity come thanks to its new tread pattern and casing. The new dual-compound tread and an optimized cooling system on both the tread and the shoulders is also said to have helped. The new tread, which contains 4 per cent more rubber, helps to increase longevity by up to 15 per cent. This significantly lowers total cost of ownership, for both the tyres and the machines.