High tyre test rating for Atlas no surprise, says Deldo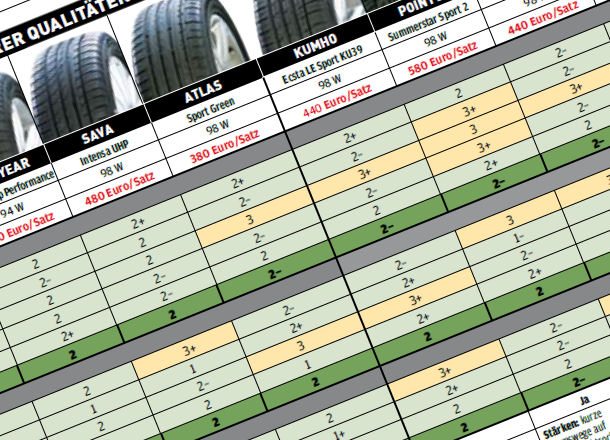 The tyres securing a podium place in German magazine tyre tests are almost invariably products from the 'top-ten' manufacturers. This is so often the case that one publication recently described the performance of rubber from outside this small circle of tyre majors as being "surprisingly good". The magazine was Auto Bild, and the tyre in question is the Atlas Sport Green.
Auto Bild described the Atlas Sport Green as an "underdog" in its test of 50 size 225/50 R17 summer tyres, and its inclusion in the second round of tests, involving the best 15 of the bunch, was worthy of comment. In the end, the Sport Green finished seventh place in the test and was praised for its performance in aquaplaning situations, dry braking performance and low drive-by noise. The Auto Bild testers also judged the Atlas tyre to be the best value for money.
For Deldo Autobanden, owner of the Atlas brand, the Auto Bild test result comes as no surprise. "Together with our factory, we have invested a great deal in engineering, in efficiency and in mutual communication. We set high demands for the R&D department, and we work closely together to deliver the best quality at a great price," comments Tom Van Dyck, sales director at Deldo. "Furthermore, we cooperate with independent test centres. In 2013, tests already showed that our Atlas outperforms more expensive premium tyres. So it was no big surprise for us that Atlas came out seventh out of 50 in the Auto Bild test."
As of this year, Deldo is able to offer a very comprehensive Atlas range, with the summer programme covering a total of 158 passenger car, light commercial vehicle and 4×4 sizes. "And recently we have started up the winter production," Van Dyck adds. "In 2014 we immediately offer 51 winter sizes – that is a very wide range for the first winter season. Of course, we set the same high quality standards as in summer, and we are already busy with the development of 25 new sizes for winter 2015."
Van Dyck describes sales of Atlas tyres as "very successful" this year. "Deldo has year-long experience in the budget segment, but never before did a new brand achieve such a strong position so quickly. Of course, the Auto Bild test is positive news for both Deldo and our dealers. But even more important is the positive feedback of our dealers and of our dealers' clients, as that is what brings extra sales."
In closing, Van Dyck adds that all Deldo private brands represented in the test were given at the very least a 'sufficient' rating. "Clients that may have doubts regarding 'Chinese tyres' can be at ease: if they got them from Deldo, the quality is assured."