Goodyear unveils 'first' fuel efficiency A-grade steer truck tyre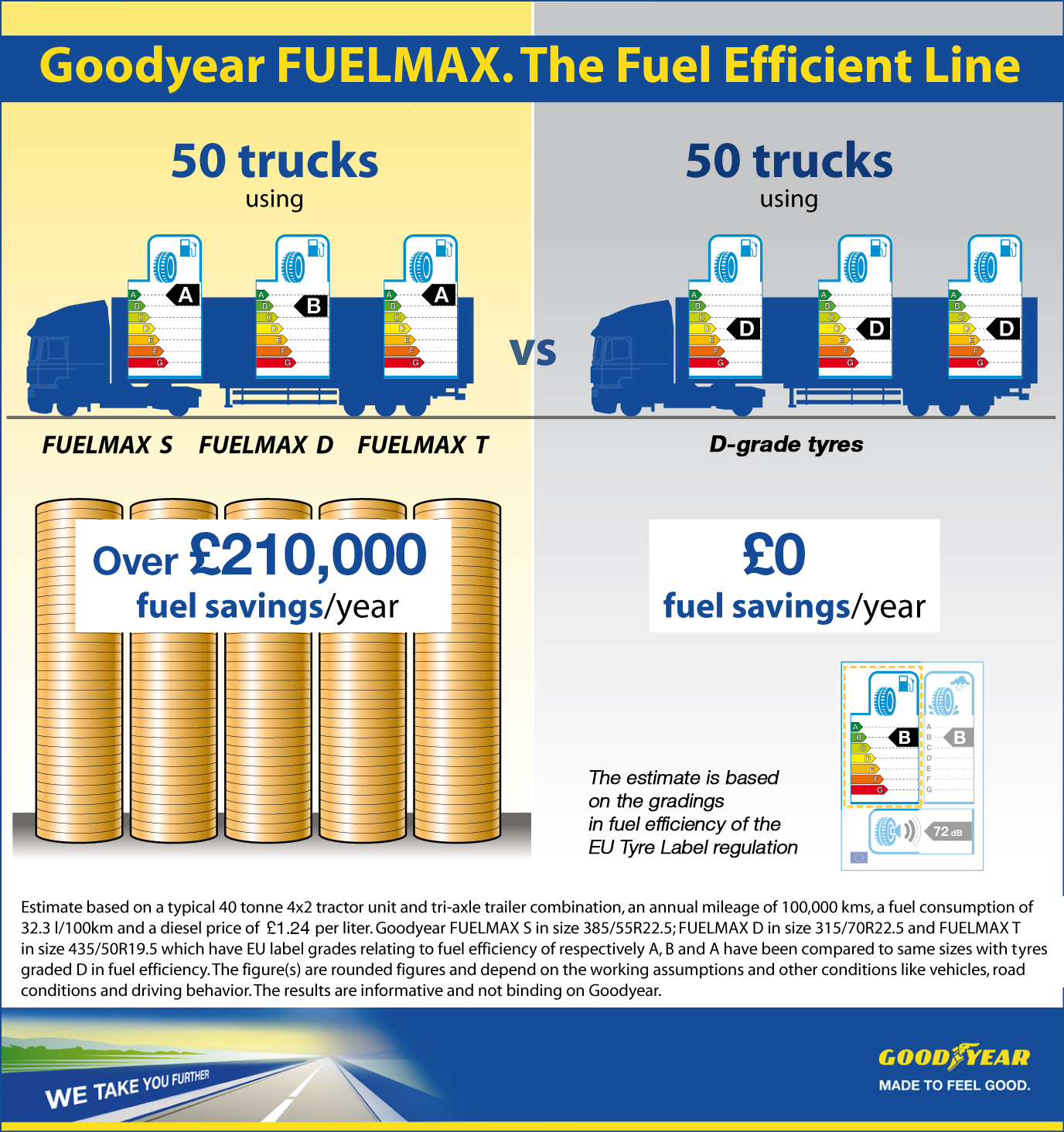 Goodyear has made its new Fuelmax truck tyre available on European markets, including a steer size that the manufacturer believes to be the first with an A-grade for fuel efficiency on the EU tyre label. The new product was launched last year as the commercial line tuned towards better fuel efficiency – the other newly launched product, the Kmax, is likewise tuned towards longevity.
Among the three Fuelmax families – Fuelmax S steer tyres, Fuelmax D drive tyres and Fuelmax T trailer tyres – both the steer and trailer tyre ranges offer tyres that have qualified for A-grades in fuel efficiency according to the EU Tyre Label requirements.  The 385/55R22.5 Fuelmax S steer tyre is believed to be the first truck steer tyre on the market to achieve an A-grade in fuel efficiency. The 435/50R19.5 Fuelmax T is the trailer size that has achieved an A-grade.
"Goodyear Fuelmax tyres really will save money thanks to the fuel economy they offer," said Adam Stanton, commercial marketing manager, Goodyear Dunlop Tyres Europe.  "There are other important benefits too, not least high mileage and their versatility in terms of the winter performance of the drive tyres.  On top of this, the new line is further proof of our innovative capabilities.  We are proud to introduce the first A-graded steer tyre on the market.  This is not the first time we have introduced a 'first A': we also had the first A-grade trailer tyre back in 2010.  That was the Marathon LHT II, predecessor to the Fuelmax T."
Goodyear estimates that an operator fitting the Fuelmax to a fleet of 50 trucks in place of the same size tyres with D-grades for fuel efficiency could save "over £210,000 each year". This estimate is based on a typical 40 tonne 4×2 tractor unit and tri-axle trailer combination, an annual mileage of 100,000km, a fuel consumption of 32.3l/100km and a diesel price of 1.50 euros per litre. In theory, fleets could fit the Fuelmax S in size 385/55R22.5 (A-grade fuel efficiency), the Fuelmax D in size 315/70R22.5 (B-grade) and Fuelmax T in size 435/50R19.5 (A-grade). This saving relates to over £4,000 in fuel costs plus a reduction in CO2 emissions of 8,975kg per truck per year.
Comparing the Fuelmax line up to its Goodyear brand predecessors, the new tyre boasts a 10 per cent improvement in rolling resistance compared to the Marathon LHS II+ and LHD II+. Versus the Marathon LHS II and LHD II, Goodyear says the Fuelmax tyres also give up to 15 per cent more mileage.