Bridgestone launches longevity-focused Ecopia steer truck tyre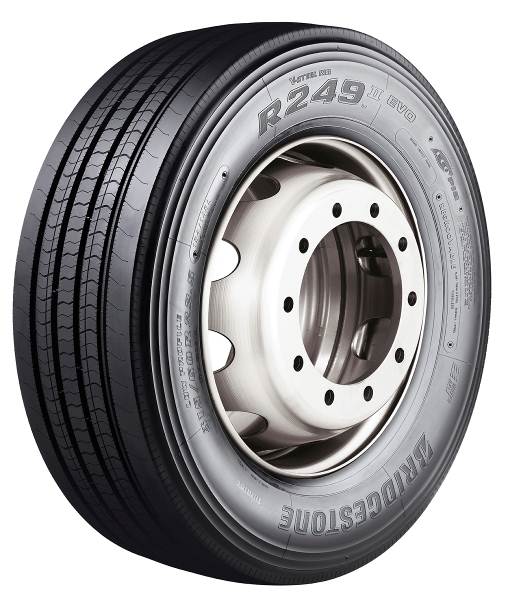 Bridgestone has launched a new steer position tyre to its commercial vehicle range, tuned to improve tyre life and increase load capacity. Bridgestone also said the new tyre would offer greater savings on fuel, with significant reductions in rolling resistance and irregular wear among the benefits it says the new tyre provides. Bridgestone makes its claims for the tyre based on internal calculations and field test performance in Spain, France and The Netherlands in 2012.
Bridgestone comments that new technologies used to develop the R249II EVO Ecopia evenly distribute acceleration and braking forces that work on the tyre, significantly reducing irregular wear. The manufacturer says it has optimised casing line and belt tension to reduce the wear energy on the shoulder rib; as a result the life of the tyre is prolonged and considerably more mileage can be achieved. The manufacturer added that the tyre incorporates the latest NanoPro-Tech compounds to reduce internal friction, avoiding energy loss in the top compound as the tyre rotates.
In order to increase load capacity, the R249II EVO Ecopia is equipped with turn-in-ply technology, which makes the bead stronger and more resilient, increasing the tyre's durability and allowing heavier loads to be carried.
"Fleets need a tyre with great durability that will also enable them to save fuel as much as possible. This is precisely what the R249II EVO Ecopia offers them" says Harald Van Ooteghem, senior manager, Commercial Marketing Planning, Bridgestone Europe.
The R249II EVO Ecopia in size 315/60R22.5 is available now for the replacement and original equipment markets.