Conti broadens solid tyre range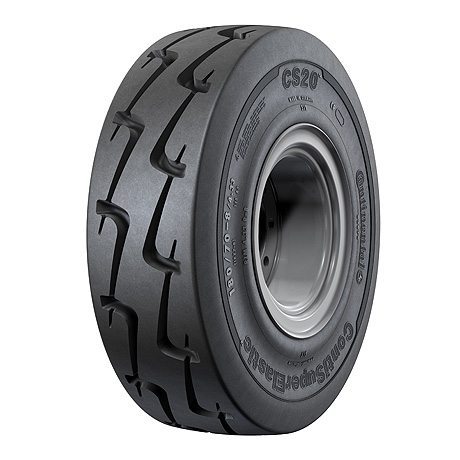 The solid tyre portfolio offered by Continental's Commercial Specialty Tires (CST) business has grown with the addition of three new fitments for forklifts. These are the CS20, SC20 Mileage+ and SC20 Energy+. All three are super elastic tyres that fit on industrial pneumatic tyre rims and each is also available in a non-marking version for industries where a clean environment is critical. To prevent static electrical charges on vehicles, the two SC20 tyres are also available in a conductive version that minimises the risk of uncontrolled electric discharge and thus damage to sensitive loads such as electronic components.
"With the introduction of our new tyres, we consequently follow our approach to develop solutions that specifically address our customers' needs," commented Dr. Michael Andreas Maertens, managing director of Continental Commercial Specialty Tires.
Continental says the CS20, which is scheduled for a 2014 release in the UK, is built to significantly save on energy and features a closed shoulder design that minimises vibrations and thus maximises running smoothness. The tyre's continuous tread belts are designed to help to deal with higher lateral loads and enhance stability when transporting heavy loads and performing frequent directional changes or turn manoeuvres. The tread of the CS20 features a 'double-L' design with a rounded groove contour; Conti says this gives excellent traction and self-cleaning characteristics.
The Continental SC20 Mileage+ is made with durability in mind. The manufacturer says it offers high mileage performance and is especially suitable for usage on rough surfaces and in very demanding working environments. "Tyre wear is accelerated particularly in outdoor application with highly abrasive grounds such as interlocking pavers, cobblestones or objects on the surface. For vehicles operating in these conditions, our engineers have developed a new rubber compound with short chain sulphur connections. The SC20 Mileage+ is the first tyre using this new compound," shared Maertens. The tread area provides maximal resistance to punctures and cuts, adds the tyre maker.
The SC20 Energy+ is a low rolling resistance fitment. Continental says the tyre is especially suitable for battery-powered vehicles used in indoor application as the tyre's lower rolling resistance mean vehicles consume less energy and battery lifetime is extended. In addition, the optimised rolling qualities reduce the heat development within the tyre, which Conti says results in excellent durability even when carrying heavy loads.