Amiens Nord workers protesting again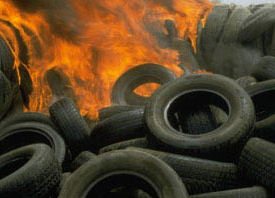 One hopes Maurice Taylor knows what he may be getting himself involved with. Goodyear's Amiens Nord plant in France, scheduled to be closed and the subject of a potential acquisition by Titan International, is once again making the news – complete with photos of flaming tyres. Workers protesting the final meeting in the consultation process with employee representatives made their feelings known today when they blocked entry to the plant and set fire to piles of tyres.
In a statement reported by French newspaper Le Figaro, Goodyear said on 7 November that its consultation process with the Amiens Nord central works committee (comité central d'entreprise) was complete and the results satisfactory. This is a sentiment not shared by the unions representing plant workers, including the CGT (General Confederation of Labour), who called for the plant to be blockaded. AFP reports that union representatives walked out of the meeting not long after it commenced, claiming that Goodyear had not met is obligations.
Last month it became known that Titan International had expressed renewed interest in acquiring the Amiens Nord plant, something the company previously walked away from after Titan boss Maurice Taylor dismissed the factory's workforce as work-shy and overpaid. Should the Titan deal go ahead, the new employer will only have space for 333 of the currently-employed 1,173 workers.