Tire Group International, LLC.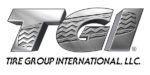 Company Name:
Tire Group International, LLC.
Long Business Description:
THE WINNING TEAM!
Founded in 1992, Tire Group International, LLC is the world's leading supplier of premium-quality tires and tubes with a business presence globally. With a vast inventory and access to millions of tires worldwide, we are ready for direct shipments to any destination.
TGI supplies over 30 different brands of tires including several brands of tubes, wheels and repair products to wholesalers, retailers, dealerships and mechanics. We are also the dominant provider in the USA, South America, the Caribbean and the Middle East.
The core of TGI's overall success resides in our first class customer service, top quality products and vast experience in the international trade.
OUR PHILOSOPHY
"At Tire Group International, we build long-term relationships through dedicated people and quality tires. Our company is one team, one network, dedicated to exceeding our customers' expectations every time they call or visit our company." –Tony Gonzalez, CEO