Kerr's Tyres buys Auto Bann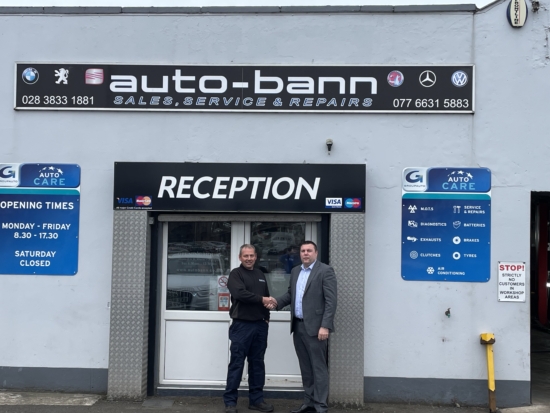 At the start of August, Kerr's Tyres Group, announced it had completed the purchase of Auto Bann. The acquisition of Auto Bann, one of Portadown's most respected independent garages, means Auto Bann becomes the 13th Kerr's Tyres & Auto location in Northern Ireland and the first in Portadown. Having entered Tyres & Accessories top 25 UK tyre retailer ranking in May 2021 when the company had 12 branches, the addition of Auto Bann means the chain's current total of 13 is one step closer to 24th position, which is currently occupied by Elite Garages, with 14 branches.
In addition, Kerr's Tyres & Auto has also announced that it will open a 12 bay workshop at the same location to service the local community. All Auto Bann employees will join the Kerr's Tyres & Auto with Andrew Litter remaining in position as centre manager in order to aid continuity.
Commenting on the news, group retail director, Brian Patterson, said: "There are many synergies between Auto Bann and the Kerr's Tyres & Auto that made this an attractive acquisition for the Group. Both are family businesses with a long history of customer excellence and like the Kerr's Tyres Group, Auto Bann has a strong and loyal customer base who will continue to be served by the same dedicated team. I'd like to welcome the Auto Bann team to the Kerr's Tyres & Auto family which now encompasses more than 150 employees across 19 locations in both ROI & Northern Ireland.
"Whilst we have service centres across Northern Ireland, we felt we needed a presence in Portadown, making it easier for our customers to avail of our province-wide services. Through the award-winning team, we look forward to bringing the Kerr's Tyres & Auto way of doing business to motorists throughout the province."
Andrew Litter, who now becomes centre manager at Kerr's Tyres and Auto Portadown said: "The team and I are delighted to be joining the Kerr's Tyre Group. The arrival of this acquisition is fantastic news for motorists in the local area. The introduction of the new workshop will ensure that we will now be the premier site in Portadown for tyres, servicing and repairs on all vehicles. I'd like to thank all our customers down the years and assure them that under Kerr's Tyres & Auto we will continue to offer the motoring public an exceptional service. I look forward to seeing all our customers soon at our newly branded workshop and waiting area."