Japanese Ambassador visits GS Yuasa plant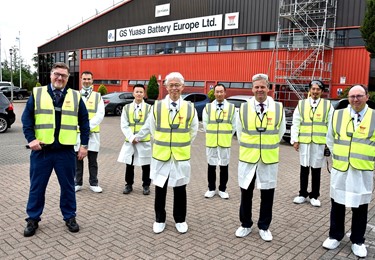 Japanese Ambassador to the UK, Hayashi Hajime, visited global battery manufacturer GS Yuasa's factory in Ebbw Vale on Friday 9 July as part of an official two-day visit to Wales to celebrate the strong connections between the two countries.
During the visit, Hayashi Hajime toured the plant, which is owned by the Japanese based corporation and celebrated its 40th anniversary earlier this year, seeing first-hand how industrial batteries are produced by the 360-strong workforce.
The ambassador also toured a new state-of-the-art lithium-ion module assembly line which has been installed as part of a recently announced multi-million-pound investment by GS Yuasa.
The investment, which is supported by up to £2.5m of Welsh Government funding, will safeguard the long-term future of the plant, creating over 100 new jobs as well as allowing for the installation of new energy efficient production equipment to increase manufacturing capacity.
Andrew Taylor, Managing Director and CEO of GS Yuasa Battery Europe Ltd, said: "We are delighted to welcome the Japanese Ambassador, Hayashi Hajime. As a Japanese-owned company, we are proud to celebrate and strengthen the ties between our two countries with such a prestigious visit.
"There are over 60 Japanese companies operating in Wales so we were understandably pleased that Ambassador Hajime and the Welsh government selected us to be part of this momentous visit – Mr Hajime's first official one to the country.
"The visit comes at an exciting time for us as we celebrate 40 years of battery production at Ebbw Vale, alongside a multi-million-pound investment in the plant."
Shaun Gardner, Managing Director of GS Yuasa Battery Manufacturing UK Ltd, added: "Our multi-million-pound investment reiterates our continued commitment to manufacturing in Wales, creating over 100 new jobs along with reducing carbon emissions and helping to build a more sustainable society.
"We showed the Ambassador how our highly-skilled workforce produces industry leading Yuasa lead-acid industrial batteries, as well as our new lithium-ion module production line which is one of the first we have outside of Japan."