Goodyear introduces DrivePoint TPMS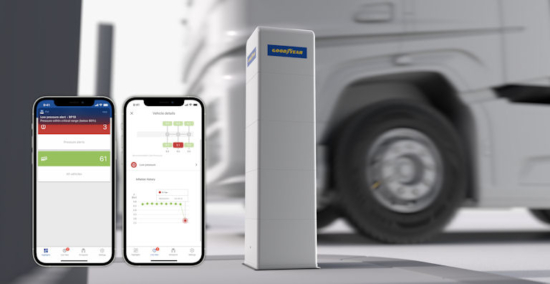 Goodyear is launching a new and "very user-friendly" tyre pressure monitoring system for HGVs and trailers. With DrivePoint joining the existing TPMS and Drive-Over-Reader smart tyre monitoring solutions within Goodyear's Total Mobility portfolio, the company can now offer three alternatives.
"With DrivePoint, tyre pressure checks take just seconds to perform," says Alberto Villarreal, managing director Proactive Solutions and Fleet for Goodyear Commercial Europe. "Regular checks help to increase uptime whilst maximising fuel efficiency and reducing fleet's carbon footprint. In addition to our other advanced and predictive solutions, it's an easy to install solution that will meet the needs of many operators who want to maximise their fleets' uptime while reducing their operating costs."
Easy installation & data-access
The Goodyear DrivePoint solution consists of on-valve tyre pressure sensors and on-yard battery-powered receivers that read the pressure status in all the tyres instantly while a vehicle is driving through them. Collected data is uploaded to the Goodyear cloud and can be accessed via Goodyear Fleet Manager apps. Fleet managers receive an immediate alert if the pressure is below the recommended level.
This new solution does not require demounting of the tyre as the sensors can be quickly installed on the valves, reducing installation complexity and associated downtime. Goodyear specifically developed DrivePoint for transport and logistics companies "looking for an easy-to-use yet very efficient tyre pressure monitoring solution."
"DrivePoint adds a cost-effective 'on-yard' alternative for our customers," adds Villarreal. "The system is easy-to-install and requires minimum follow-up maintenance. It offers the fleet full visibility on the tyre pressure levels of each vehicle enabling them to plan maintenance more effectively. Frequent vehicle tyre checks help reduce the chance of missed deliveries due to vehicle downtime. They also help to ensure maximised safety, efficiency and sustainability. Our focus is on delivering solutions that drive results for fleet operators and bring added value to their customers."