Trelleborg launches XP800 forklift tyre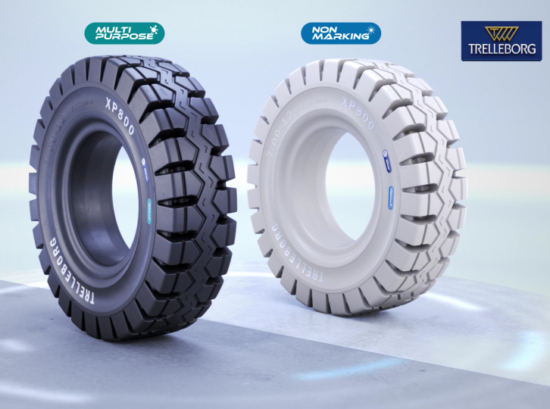 Trelleborg Wheel Systems has launched its next generation of forklift tyre, the XP800. The tyre maker says this range "gives outstanding performance" in medium intensity material handling applications.
"In today's multitude of material handling operations, having the right solution is key to maximising efficiency," says Luca Sabelli, product manager Material Handling at Trelleborg Wheel Systems. "At Trelleborg we have developed a unique rating system with easy to recognise labels to help customers to effortlessly identify which tire suits their needs according to the application's intensity. The XP800 is specifically designed to be the perfect choice for medium intensity applications, delivering a solid performance and minimising downtime to keep costs under control."
Enhancing indoor & outdoor performance
According to Trelleborg, the advanced tread design of the XP800 enhances both indoor and outdoor performance to ensure maximum productivity. "Its unique design features an extra wide tread and unique profile for minimised vibrations, enhanced handling and excellent stability in indoor applications, while the lateral block design with deep lugs optimises traction in outdoor areas. Its extra deep tread increases tyre longevity for maximum service life."
On the inside of the XP800, a "revolutionary" construction technology features a fibre compound layer along with an optimised tread. Trelleborg says these "provide outstanding performance in a sustainable way."
Non-marking version available
The XP800 is available in two different compounds: multi-purpose, a standard black compound to ensure very good wear, rolling resistance and overall performance; non-marking, a specialised white compound to optimise heat dissipation and keep floors clean and free from marking.
The Trelleborg XP800 range include multiples sizes covering low aspect ratio and 20-inch tyres for more severe applications, meeting the complex challenges of material handling operations.