Motul signs up as Top Technician/Top Garage main partner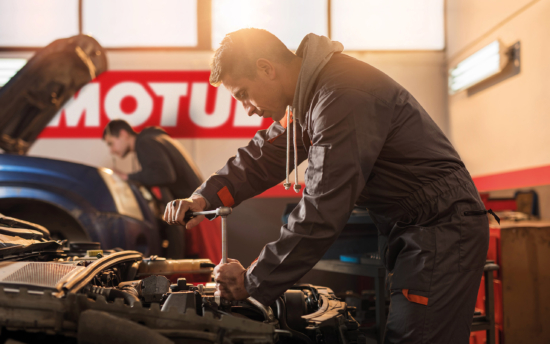 Motul has announced that it has signed up as a main sponsor partner for the UK's Top Technician and Top Garage Awards initiative.
Recognised for the quality of its products, its ability to innovate in the sector and its long history of success in the competition arena, Motul – the originator of fully synthetic lubricants in the automotive field 50 years ago this year – is now aiming to mirror its strong presence in workshops across Europe throughout the UK.
"With OEM approvals from leading vehicle manufacturers, Motul stands for quality across its entire range and, as such, it is delighted and proud to be able to help champion the drive for excellence in the UK garage industry through the Top Technician and Top Garage Awards initiative," explained Andy Wait, Motul's UK PCMO Business Development Manager. "We will be actively supporting and promoting our involvement and the scheme itself. Motul is the number one motorbike lubricant brand in the UK and we have a massive presence in motorsport. We aim to make use of both of these elements for those involved in and around Top Technician and Top Garage – so I believe we will bring something new and dynamic to the party."
The product range not only offers quality but also has the width to cover all the requirements that a garage workshop might have for lubricants and fluids – whether that be engine, transmission, brake, hydraulic, or coolant related. Motul also has a comprehensive range of greases, cleaning sprays and fluids for workshop applications.
"Top Garage and Top Technician will give us the chance to showcase our product offer to some of the best that the UK has to offer, so it is a great place to start," continues Wait. "We also have some new workshop product lines that we will be launching this year, so it will be both interesting and useful to get hands-on feedback from those at whom these products are aimed."
Top Technician is now in its 19th year and 2021 will see the third running of Top Garage. The awards initiative is organised in association with ABC Awards, the Garage Equipment Association (GEA), the Independent Automotive Aftermarket Federation (IAAF) and the Independent Garage Association (IGA).
It is planned that the Semi-Finals of both award schemes will take place in early-September with Finals Day and the Award ceremony on October 9th.   Both days will be covered extensively online, with the finals broadcast live online and through social media. Entries will close at the beginning of June.