Maxion on track with Turkey expansion project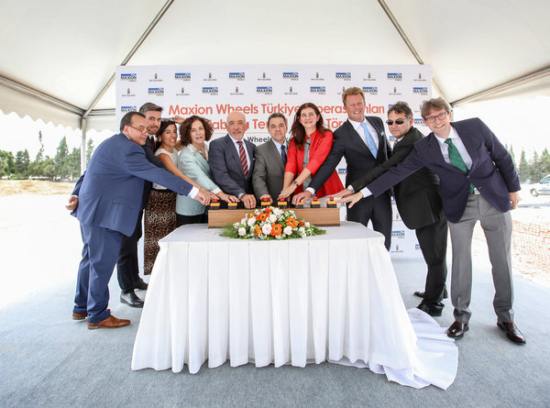 Maxion Wheels reports that construction and infrastructure work for its new Maxion Jantaş commercial vehicle (CV) steel wheel plant in Manisa, Turkey is now complete. The wheel manufacturer and local partner Inci Holding anticipate that the 21,000 square metre facility will be complete in the first quarter of 2022 and will increase Maxion Jantaş' total production capacity to up to three million CV steel wheels a year.
"With confidence in a full economic recovery, as well as expectation of a robust and growing global freight market over the next five years, Maxion Wheels is determined to serve its growing customer demand by producing more of its market-leading CV steel wheels," said Pieter Klinkers, chief executive officer of Maxion Wheels. "Our truck wheel volumes continue to grow globally as we pursue our strategy of offering cost-effective-, lightweight- and innovative solutions for the commercial vehicle market. We are excited to soon offer our customers additional capacity from our world-class Turkish operations."
Maxion Jantaş largest truck wheel producer in Europe & Near East
Mustafa Zaim, chairman of the board of Maxion Inci Turkish Operations added: "With this expansion, Maxion Jantaş becomes the largest truck wheel producer in Europe and Near East with two CV steel wheels plants in Turkey, producing up to three million wheels a year. The new plant becomes the fifth Maxion Inci wheel plant in the Manisa Organized Industrial Zone, where Maxion Inci continues to push for global competitiveness with industry breakthroughs such as Industry 4.0 digitalisation efforts that focus on elevating all of our plants to "smart plants."
Maxion and Inci also produce approximately ten million light vehicle steel and aluminium wheels a year, and with the CV steel wheels, generate annual sales of approximately 350 million euros in the Manisa Organized Industrial Zone. With annual production of 55 million wheels, Maxion Wheels claims to be the world's largest wheel manufacturer. It serves its global OEM customers from 31 locations in 15 countries on five continents.