Kuga parts released into aftermarket by Klarius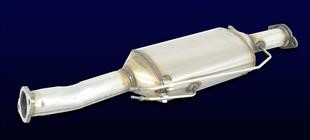 A wide selection of new exhausts, catalytic converters (CATs) and diesel particulate filters (DPFs) have been added to the Klarius Products range. Aimed squarely at popular vehicle applications such as the Ford Kuga 2.0, every new part is available to distributors on next morning delivery. A comprehensive 2-year warranty and a Fit First Time guarantee is also standard.
Complete exhaust systems added to the Klarius range provide quality replacements to fit popular hatchbacks, including the trusty 2012-2014 Honda Civic 1.4, the 2010-2014 Skoda Fabia 1.2 and the class-leading Volkswagen Golf 1.2 from 2010 onwards. Multiple 2000s models of the Audi A3 including the 1.6, 1.9 and 2.0 have systems available too.
SUVs and crossovers are also catered for, with replacement exhausts now in range for the pint-sized Suzuki Jimny 1.5 for 2014 onwards, the 2006 – 2009 Range Rover 2.5 and 3.0 as well as the Vauxhall Mokka 1.6 from 2015 onwards.
Volvos are enduringly popular for their build quality and safety features, so Klarius has supported owners with new exhausts in range to fit the C30, C70, S40 and V5.0 petrol 1.6 or 2.0D models.
New DPFs are available to fit the popular 2012 Ford Kuga 2.0. Superminis are well represented too, with new CATs available for the platform sharing Citroen C1 1.0, Peugeot 108 and Toyota Aygo. Additional parts are in range to support popular estates, MPVs, Fiat, Hyundai and Suzuki vehicles too.