Trelleborg expands EMR radial range for loaders and dumpers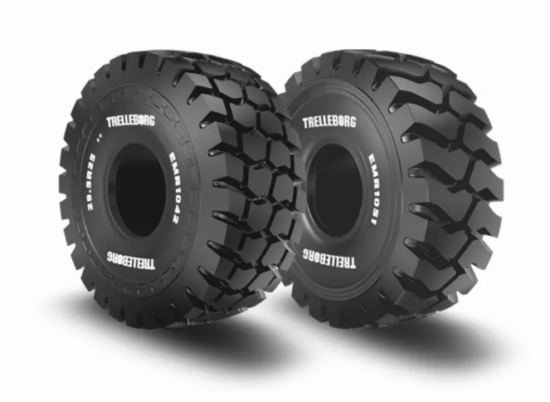 Trelleborg Wheel Systems is gearing up to release the newest additions to its EMR range of earthmover radial tyres for critical construction applications. Further sizes within the EMR 1042 and EMR 1051 ranges will be released into the market in early 2021.
EMR 1042
The EMR 1042 range is designed for articulated dump trucks and wheel loaders. Trelleborg says the EMR 1042 "maximises the efficiency of hauling operations in open pits and quarries, construction work and landscaping." The tyre features a reinforced sidewall rubber ring guard protection and a robust casing. "Sand, rock, gravel, and soil are no match for its exceptional grip and traction," adds Trelleborg The new sizes joining the EMR 1042 range include 23.5R25 and 26.5R25.
EMR 1051
With "superior tyre technology" incorporated into its design, the EMR 1051 range offers customers the "best possible tyre solutions for intensive loading applications." Trelleborg shares that like the EMR 1042 range, its multi-surface tread design "delivers the perfect grip where most needed, whether operating in open pits and quarries, construction sites or landscaping." The tyre maker adds that the EMR 1051 compound, radial casing and extra deep tread "optimises load distribution and tyre life while boosting ride comfort and fuel efficiency." New sizes for the EMR 1051 range include 20.5R25, 23.5R25, 26.5R25, and 29.5R25.
"Much like our EMR1025 all-season tyre, the expanded EMR range showcases the cutting-edge design and engineering that goes into our specialty tyres for industrial applications," says Marcello Mantovani, product manager Construction at Trelleborg Wheel Systems. "As an industry leader in the specialised tyre market, Trelleborg continuously seeks new solutions that enhance our customers' productivity. Both the EMR 1042 and EMR 1051 tyres offer superior traction, enhanced damage protection and durability, plus a reinforced carcass and sidewall protection to extend tyre life and increase rider comfort."