Trelleborg launches EMR1025 all-season construction tyre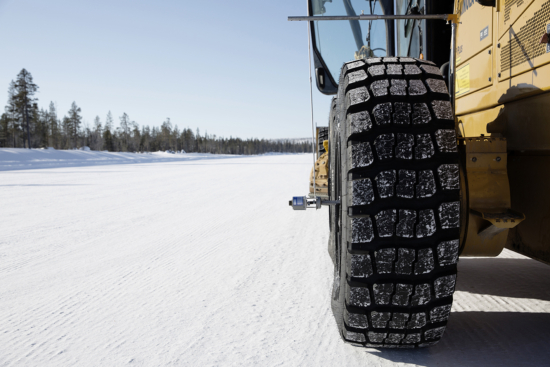 Trelleborg Wheel Systems will debut its EMR1025 all-season commercial tyre for loaders and graders. The manufacturer states that the tyre delivers premium damage protection and durability while adding extra comfort. Its is designed to be a suitable year-round fitment, providing enhanced grip on snow and ice. This offers a potential cost saving for operators, as it eliminates the cost and downtime of seasonal changeovers.
The EMR1025 has a siped winter tread pattern to improve traction. Its compound also helps to deliver higher grip and traction on snow, as well as a reduced braking distance. This gives operators and machines increased protection in winter conditions.
Alessio Bucci, product marketing senior manager at Trelleborg Wheel Systems, says: "The new EMR 1025 tyre takes all-season tyre performance to new heights. Across all of our tyre segments, we aim to be the customer's first choice, and to provide innovative solutions that accelerate performance in a sustainable way."
The EMR1025 tyre is part of the EMR tyre series that is designed to enhance productivity and to perform in critical applications. It will be available in four sizes: 14.00-24, 17.5R25, 20.5R25 and 23.5R25.