Copadex to distribute a full Alliance tyre portfolio in France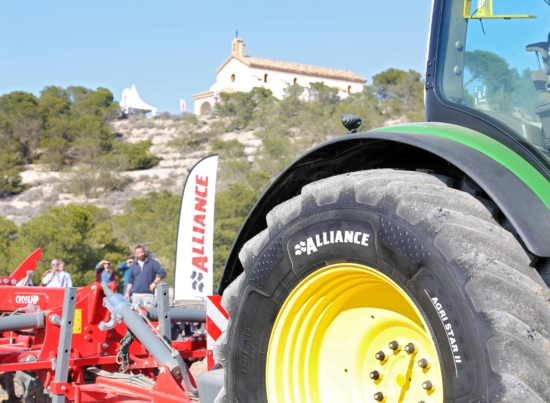 Copadex is expanding its existing cooperation with Alliance to become an official distributor of the whole Alliance tyre portfolio in France as of 2021. The extension of the Alliance offer will make Copadex a full range distributor of Yokohama Off-Highway Tires (YOHT) – as Alliance Tire Group was recently renamed – in France. Copadex is also an official distributor of Galaxy tyres – another YOHT brand specializing in the industrial and construction segments. Copadex will take over its new full range role in the highly important French market with particular focus on agricultural segment and the premium tractor radial portfolio specifically. Copadex will also distribute Alliance tyres in other segments such as forestry and construction.
Copadex will become the fourth distributor of Alliance in France – one of the key agricultural markets for Yokohama OHT. The expansion of the distribution network goes in line with the earlier presented new strategy for France, aiming to increase Alliance market share via the focus on the premium products. Alliance will now push its high-end product portfolio, like its industry largest VF tyre range and the newly launched Agri Star II tractor tyre specifically. Launched at the beginning of 2020 only, Agri Star II has already become a bestseller in other main European agricultural markets due to its premium performance and a highly attractive price.
"Thanks to our strong expertise and a wide dealership network across the whole country and especially in Northern and Central France, we are happy to extend our brand portfolio and grant our customers easy access to the full range of Alliance and Galaxy tyres – and particularly their premium agricultural products", says Bruno Clairay, managing director at Copadex.
"Based on our successful cooperation, we are happy to expand further our partnership with Copadex – one of the strongest distributors on the market with over 30 years' experience. This enhanced partnership boosts our efforts to increase the recognition of Alliance in the premium segment of agricultural tyres in France. In addition to innovation, performance, quality and lifetime, it is the excellent value for money of our tyres that makes for an unbeatable package. So, we are very pleased that our products will become even closer to the French customers and end users", emphasised Angelo Noronha, President EMEA at Yokohama OHT.
Alliance Tire Group (ATG) became Yokohama Off-Highway Tires (YOHT) as of 1 January 2021.