New for 2021: Metzeler Tourance Next 2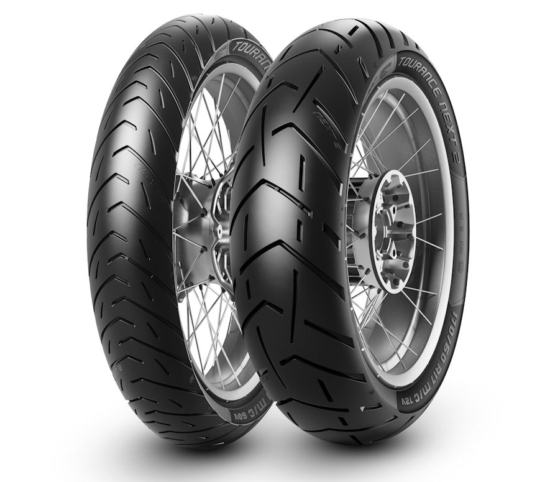 Amongst the additions to the Metzeler motorcycle tyre range we're anticipating in 2021 is a product Metzeler says will be the "new benchmark" in the enduro street segment. This is the Tourance Next 2, the fourth generation Tourance.
Metzeler developed the Tourance Next 2 for the latest adventure bikes, and in its own words the tyre is the "ideal choice for owners of enduro street motorcycles used both for long journeys and for out-of-town excursions, alone or with a passenger, even when fully loaded, who are looking for the aggressive look of an off-road inspired tyre, but also top road performance combined with riding comfort and durability." It adds that even motorcyclists who use their maxi enduro for daily urban trips will "appreciate the feeling of safety" that Tourance Next 2 offers on different types of surfaces, even in wet conditions.
Metzeler claims an all-round improvement in performance compared with the predecessor tyre. Particular progress has been made towards greater neutrality in corner entry and mid-corner. Braking distances have also been significantly reduced.
According to Metzeler, the Tourance Next 2 offers the following main benefits:
• Agile and neutral behaviour, in particular on state-of-the-art bikes that are equipped with advanced electronic systems;
• Benchmark performance in wet conditions, with a ten per cent improvement in stopping distance compared with the prior-generation Tourance Next. This improvement is also apparent at low temperatures thanks to the latest generation compounds and Hyperbase structure;
• Immediate and lasting performance for the tyre's entire lifespan courtesy of a tread pattern based upon Metzeler's Dymatec design methodology.
Construction & compounds
Most dimensions in the Tourance Next 2 radial range feature zero-degree steel radial and Interact technologies. Metzeler says these provide a neutral and gradual response regardless of riding style. Riders will feel in "full control of the vehicle at all times," it adds.
The tread pattern employs elements found on other Metzeler products. Longitudinal grooves on the rear tyre are intersected to improve compound stability and ensure uniformity of wear, which in turn benefits mileage potential while helping the tyre hold a line on gravel roads.
The front tyre utilises an 85 per cent silica compound. This contains functionalised polymers that enhance stability and grip characteristics in the wet. The rear tyre is multi-compound and, depending on size, features either a cap and base structure or the new Metzeler Hyperbase structure. Cap and base extends the central compound below the two shoulder compound areas, while with the Hyperbase structure the central and lateral compound areas are supported by a full-carbon-black base that provides additional thermal stability. The central compound is the same as the front tyre compound, while the shoulder compounds are full-silica to optimise performance in wet conditions and grip while leaning.
Metzeler will introduce the Tourance Next 2 range in 2021 in the following eight sizes:
Front: 110/80 R19 59V, 120/70 R19 60V, 120/70 ZR19 60W, 90-90 21 54V
Rear: 150/70 R17 69V, 170/60 R17 72V, 170/60 ZR17 72W, 150/70 R18 70V