EMEA tyre business supports Goodyear Q3 results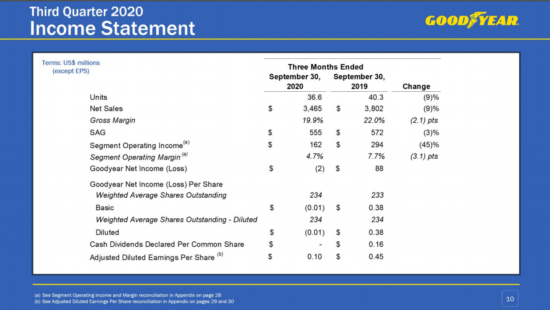 Goodyear Tire and Rubber reported Q3 2020 net losses of US$2 million compared to net income of $88 million in the same quarter a year ago. The company reported segment operating income of $162 million in Q3 2020, down $132 million from a year ago. According to the company, the decline primarily reflects lower volume, reduced factory utilization and lower earnings from other tyre-related businesses.
Goodyear's sales for the quarter were $3.5 billion, down 9 per cent from a year ago. Third quarter tyre unit volumes totalled 36.6 million, down 9 per cent compared with the same point in 2019. Similarly, Goodyear's replacement tyre shipments declined 9 per cent, reflecting the impact of lower consumer demand, temporary third-party retail store closings in the US, and "actions taken to align European distribution". Original-equipment unit volume decreased 9 per cent too, driven by reduced vehicle production, Goodyear said.
Of course, demand was hit during the quarter by the continued economic disruption of Covid-19, but what else can we learn from Goodyear's latest figures?
Analysts at Zacks suggested Goodyear's third-quarter 2020 adjusted earnings per share of 10 cents outperformed consensus estimates of a loss of 8 cents. The reasons? Higher-than-expected net sales of tyres from the Europe, Middle East and Africa (EMEA) unit led to the outperformance. Precisely, net sales from the said segment were $1,156 million, surpassing the consensus mark of $1,039 million.
Meanwhile, the Americas segment generated revenues of $1,823 million down from $2,049 million in the prior-year period. The segment incurred an operating income of $106 million, lower than $175 million in third-quarter 2019. According to the analysts, the year-on-year decline was due to reduced volume and weak factory utilization.
Taken together, the EMEA part of the business's relatively strong outcomes supported the overall outperformance of Goodyear's tyre operations in the third quarter of 2020.