Failing wiper blades should be a winter focus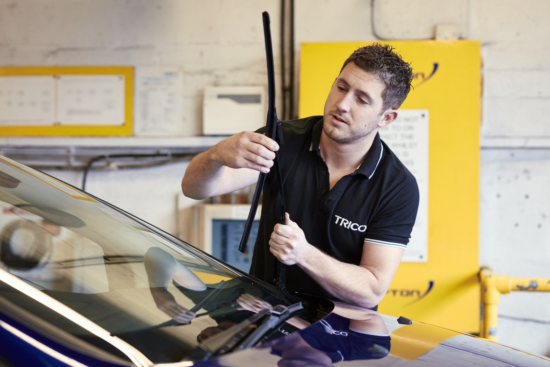 With the clocks going back soon, it's time for workshops to think of the products that will sell most at this time. Wiper blades are one such candidate. Following the long, bright summer, UV rays from the sun could have damaged blade rubber, so these need to be checked to ensure they're in optimum condition. Indeed, a poll commissioned by Halfords found that 6.5 million cars are being driven by motorists with faulty wiper blades.
The data based on a OnePoll survey of 2,000 motorists carried out between 15 and 22 August 2019, show that 17 per cent of motorists polled across the UK claim to have driven with faulty or broken wiper blades. The research also found that 20 per cent don't know when their wiper blade needs to be changed, while 15 per cent were worried about driving in the rain and cited it as a reason that they put off driving during the autumn and winter months.
And what's more, with the current post-lockdown MOT boom upon us, it is worth considering the impact of wiper blades on the annual DVSA car test. In short, wiper blades which don't clear the windscreen properly count as an MOT fail. And driving with a car in this condition could see motorists hit with a fixed penalty notice for driving a vehicle with a part in a defective condition. Police could also view the driver's actions as careless driving, which carries a £100 on-the-spot fine but can lead to a maximum fine of £5,000 if the case is taken to court.
Many drivers (16%) would wait for a garage to tell them a wiper blade should be replaced – despite the fact that an issue may not be picked up for many months and often during the MOT – a further 15 per cent would wait until the wipers begin to screech and 13 per cent admitted they simply didn't know when to change them.
Rebecca Davis, Halfords' wet weather expert commented: "Strong wind and torrential rain could cause trouble for those with dodgy wiper blades. Our research shows that there are likely to be many motorists out there struggling to see as their wiper blades fail to cope with the elements. Poor visibility doesn't just make driving in the rain unpleasant and more tiring but failing to see a hazard quickly slows your reaction time. This can add several car lengths to your stopping distance and make the difference between avoiding a collision and not.
"As soon as a wiper begins to smear rather than clear your windscreen it is past its best and should be changed. Modern flat wiper blades don't screech on the windscreen, so drivers listening for this audible warning are likely to miss the signs that their blades aren't cutting it anymore."
Wiper check best practice supported by Trico checklist
For it's part, Trico is suggesting that workshops offer a free winter wiper blade check and has compiled a checklist for assessing blade condition, which helps identify if they need replacing – something that is already happening on a nationwide scale. Halfords, for example, is offering a free five-point winter check which includes wiper blade checks at over 700 sites across the UK including Halfords and Halfords Autocentres.
Trico senior brand and product manager, Sam Robinson, explained: "Even though they're safety critical items, wiper blades can often be over-looked by technicians and, because they wear gradually, their performance is rarely considered by drivers. However, when it rains, they are completely reliant on their wipers to clear the screen and provide the vision they need to drive safely…" Here's Trico's checklist:
Clean screen – Ensure the windscreen is thoroughly cleaned using warm water or specialist glass cleaning fluid. In particular pay attention to the areas at the top and bottom of the wipe area, as dirt and debris collect there. Also check the glass for any cracks or chips, these are a safety hazard in their own right, but can also damage the wiper blade rubber.
Safe and secure fitment – Check the blade is securely fixed to the arm. The blade should rotate freely, parallel with the wiper arm, to allow it to flex over the screen, but there should be no wobbling or movement perpendicular to the arm. This movement can be a sign of wear from the blades flipping over and could eventually cause the blades to come apart during use. Naturally, if the blade shows excessive movement, replace it immediately.
Blade edge check – Gently clean the rubber blade edge with a damp cloth or sponge to remove any dirt or residue. Check along its length for any imperfections in the rubber, in particular check at either end that it has not split. Ensure that the rubber element returns to a central position and is not flipped over and set in one direction. If the blade fails any of these checks, it should be replaced.
As blades are not only affected by rain and snow, but also the UV rays from the sun, Trico recommends that wiper blades are replaced every twelve months to ensure maximum effectiveness and visibility.
Wipe check – Using the washer spray or a mister bottle to spray the glass, operate the wipers and check that there are no missed areas, water smears or multiple streaks that impair vision. Any light misting remaining after the wipe should disappear quickly. Naturally, blades that leave streaks or smears should be replaced immediately.
In short, the overall advice is that, due to COVID-19 and the subsequent six-month MOT renewal exemption, there have obviously been far fewer vehicles visiting workshops. So, when drivers do bring their vehicles in for service or repair, technicians need to ensure that in addition to the work they undertake for the original booking, they also check that the vehicle – and its wipers – are roadworthy.