Brembo OE on Polestar 2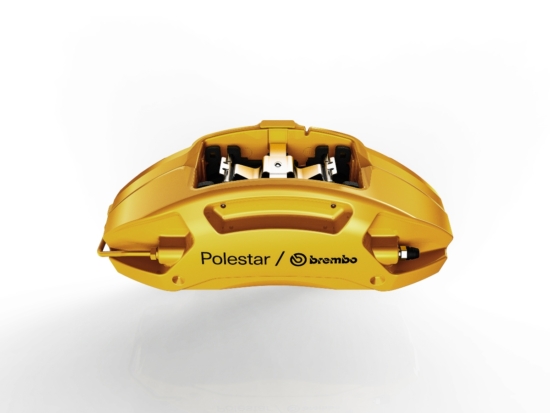 Brembo is to supply brake calipers and discs for the new Polestar 2. Specifically, Brembo is to produce the two-piece four-piston aluminium front calipers and Brembo's exclusive dual-cast floating brake disc for the Polestar 2.
Accenting their lightweight aluminium construction, Polestar highlights the aero sculpted Polestar 2 calipers with a distinctive copper gold color that captures the eye and communicates that this Polestar has a Brembo brake system.
The Brembo front caliper is designed to provide the 375 mm X 35 mm disc with maximum clamping power. The low-drag design of the caliper keeps pads from dragging on the discs resulting in quiet braking performance, reduced rolling resistance, and improved battery regeneration. The four pistons have the same diameter and are offset towards the trailing side which avoids tapered, uneven, wear of the pads.
The dual-cast floating brake disc is made of two materials, cast iron and aluminium. This new disc has many advantages: reduced weight (15-20 percent lighter), greater driving comfort, less corrosion, less wear and better brake performance.
"Brembo is a proud partner on the all-new Polestar 2," said Daniele Schillaci, CEO, Brembo SpA. "This was a collaborative development project with the Polestar team that results in a caliper that compliments the overall styling theme of the Polestar 2. When you combine the progressive copper look with the technology of this beautiful lightweight brake system, you get excellent stopping power with a distinctive appearance that also promotes sustainability — helping to increase mileage and battery range."