Future of aftermarket under the microscope at Industry Briefing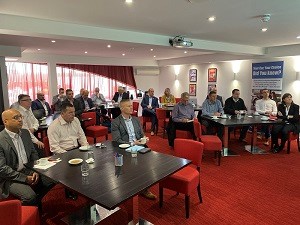 The Independent Automotive Aftermarket Federation (IAAF) has held its final Industry Briefing of 2019 at Haynes Motor Museum, with the future of the automotive aftermarket very much dominating proceedings.
The sold-out event featured presentations from Donna Shepherd, business development manager from HaynesPRO, Quentin Le Hetet from GiPA UK and, Steve Carter of Train4Auto Consultancy.
Kicking off proceedings was IAAF head of membership development Mike Smallbone, who updated members on all the latest industry developments including Block Exemption, Type Approval, Connected Car, forthcoming EU legislation and, the Your Car – Your Choice campaign. Smallbone also outlined the various IAAF activities throughout year, with the Federation's annual conference and awards dinner set to take place on Thursday 5 December at DoubleTree by Hilton, Milton Keynes.
Quentin Le Hetet from GiPA UK then presented "the next five years of the automotive aftermarket" looking at the four major influences on the market. These include: An ageing vehicle parc, vehicle manufacturer (VM) activity, motorists buying trends and, vehicle technology. He also presented on the changing dynamics for diesel cars and explored the large potential that still exists for the automotive aftermarket with this vehicle parc.
This was followed by Steve Carter, who stated that the electric vehicle revolution was no longer a possibility but a fact, demonstrating substantial vehicle manufacturer activity in this area and their commitment away from the internal combustion engine. In addition to the rapid increase in the UK's electric vehicle charging infrastructure, Carter also highlighted that less than five percent of all technicians are qualified to work on high voltage systems seen within electric vehicles, demonstrating the potential that exists for the automotive industry.
The session then finished at 1pm with lunch, where delegates had the opportunity to network and enjoy a trip round the world-famous Haynes Motor Museum.
Wendy Williamson, IAAF chief executive, said: "The IAAF industry briefings, held throughout the UK, have given us the opportunity to take the Federation's message and activity to the membership. In addition, we are providing some high value content from experts in their field, illustrating why it is important to sign up early to these events to avoid disappointment."
In 2020, IAAF is looking to hold more Industry Briefing sessions for car and CV members, details of which will be unveiled in the coming months.