Decline in car sales continues in October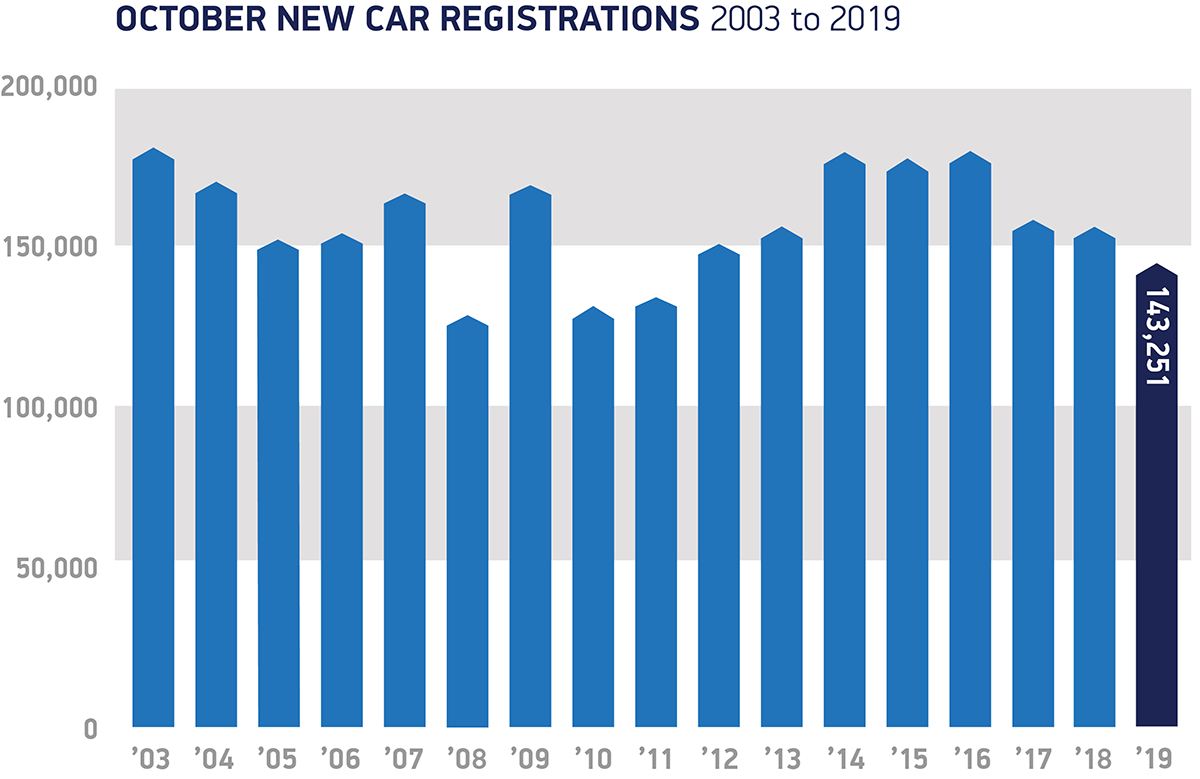 UK new car registrations declined -6.7 per cent last month, according to figures from the Society of Motor Manufacturers and Traders (SMMT). 10,348 fewer cars were registered than in October last year, reflecting a tough environment for businesses and consumers as economic and political uncertainty continued to impact confidence.
The decline was driven by falling demand from private consumers, with registrations down -13.2 per cent. Business demand also fell, while fleet registrations remained stable at +0.3 per cent. There was a mixed picture across body types, with the popular supermini segment experiencing a substantial decline (-23.4 per cent), while dual purpose and small family car registrations grew +7.1 per cent and +3.3 per cent respectively.
Registrations of diesel cars fell for the 31st month, down -28.3 per cent, while petrols also declined, by -3.2 per cent. Bucking the overall trend, electrified cars continued to grow in popularity. Hybrid electric cars increased by a considerable +28.9 per cent, with 7,950 leaving showrooms, as battery electric vehicle registrations almost tripled, up +151.8 per cent to 3,162 units. Plug-in hybrids, however, fell just short of their positive performance in the same month last year, down -1.7 per cent. Combined, alternatively fuelled vehicle registrations reached 9.9 per cent market share in the month – the highest on record, up from 6.9 per cent last year.
Year to date, the new car market remains in decline, down -2.9 per cent on the first 10 months of 2018. The fall reflects continued uncertainty over diesel and clean air zones, stunted economic growth and uncertainty over Brexit.
Mike Hawes, SMMT chief executive, said, "The growth in alternatively fuelled cars is very welcome, showing increasing buyer appetite for these new technologies. The overall market remains tough, however, with October now the year's eighth month of decline and in need of an injection of confidence. Whether the general election delivers a 'bounce' to the economy remains to be seen but, with attractive deals and an ever-greater choice of low, ultra low and zero emission models arriving in the UK's showrooms, consumers have every incentive to consider buying a new car."
Commenting on the figures, Sue Robinson, director of the National Franchised Dealers Association (NFDA) which represents franchised car and commercial vehicle retailers in the UK, agreed that sales have been affected by what she describes as "the current climate of uncertainty."
However, she added: "It is encouraging to see demand for pure electric vehicles expand despite challenges. Not only electric vehicles but also the latest petrol and diesel cars are facing supply constraints which will improve as we approach 2020.
"Franchised retailers are making significant investments in their online strategy as well as their dealerships to ensure a platform for future growth and offset consumer uncertainty.
"We expect a relatively quiet last quarter of the year with a solid used car sector continuing to help counterbalance the decline in new car sales."
EV/hybrid sales to accelerate – Deloitte
Michael Woodward, UK automotive lead, Deloitte, said "concerns about personal finances and a fall in consumer confidence in the third quarter mean many are shying away from major purchases. According to Deloitte's latest Consumer Tracker data, just 4 per cent plan on purchasing a vehicle in the next three months – the lowest level recorded in the Tracker's nine-year history.
"That said, it is encouraging to see consumer confidence in new technologies increase, as sales of electric and hybrid vehicles reached a market share of 9.9 per cent this month. We expect sales in this area to accelerate next year, as the incoming 0 per cent company car tax rate on zero emission vehicles comes into effect.
"The long-term decline in overall sales however, and the impact it is having on the residual values of stock, also means that dealers are becoming less inclined to pre-register cars. This has been an important driver of new car sales in the past, but exposes dealers to financial risks they are no longer willing or, in some cases, able to take.
"In the face of falling sales, rising costs and increased competition from personal leasing companies, some dealers will increasingly need to think of innovative ways around financing and leasing, and online sales, to serve the changing consumer."