UK testing for motorway surfaced with recycled tyres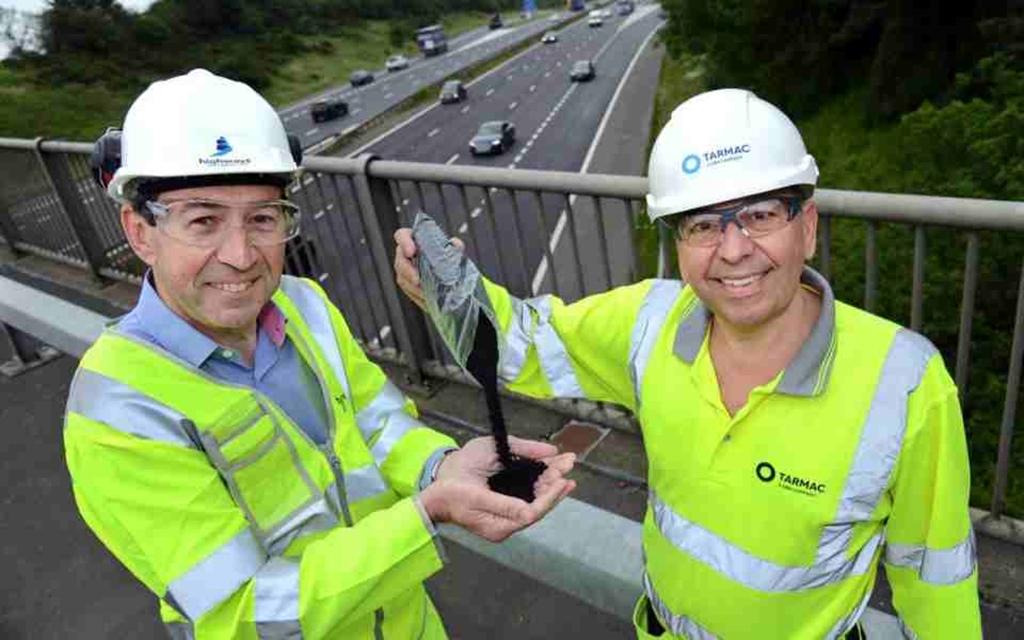 When the rubber hits the…rubber: Highways England is trialling a new road surface using recycled tyres. The rubber-asphalt mix has been laid on a section of the M1 near Leicester and is now being evaluated for durability.
This new surface has been developed by Tarmac; the sustainable building materials company estimates that up to 750 waste tyres could be used in every kilometre of road surfaced, depending on road width.
"Highways England is committed to investing in innovation to help us meet the economic, environmental and efficiency challenges we face in our changing world and also to delivering environment improvements as we strive to ensure our road network works more harmoniously with its surroundings," comments corporate group leader Martin Bolt, who oversees innovations projects for Highways England in the Midlands. "This trial could well be the first step to rapidly reducing the number of tyres piling up in the UK and beyond. The economic and environmental potential of this new asphalt is significant and we are delighted to be working with Tarmac in this trial."
Tarmac's managing director, Paul Fleetham, adds: "Technical innovation has a key role to play in improving the environmental performance of our roads. As a previously overlooked waste stream, used tyres offer a significant opportunity to unlock the benefits of a circular economy.
"There has been a very positive response to our rubberised asphalt since the first local authority trial was announced in May and we're very pleased to be working with Highways England to explore its potential to support the sustainability of the strategic road network."
The rubber granulate mix is being trialled between junctions 23 to 22 on the southbound carriageway of the M1.
A new life for ELTs
Tarmac announced the launch of its rubberised asphalt in June following trials held in Coventry. Commenting on Coventry City Council's experiences with the material, senior engineer, Highways Technical, Rob Little said that the council was "delighted" with the rubberised asphalt trial: "We hope we can use more of the product across the city in the future to help divert waste tyres from landfill and incineration to reduce the carbon footprint for road construction projects in Coventry."
The rubberised asphalt has the potential to reduce the 120,000 tonnes of rubber waste that is exported from the UK annually. "While plastic recycling has attracted media headlines, used tyres remain a significant and overlooked waste stream and our new innovative rubber modified asphalts offer a more sustainable option for our industry and the environment," observed Brian Kent, technical director at Tarmac. "Rubber is used in asphalt across the USA, but in the UK, there is a lack of the necessary industrial infrastructure required to allow manufacture of this type of material. Against the backdrop of major investment in the strategic road network there is now an opportunity to leverage this technology and unlock the benefits of this circular economic approach."
Peter Taylor OBE, secretary general of the Tyre Recovery Association added: "While there has been significant progress in reusing and recycling waste tyres in the UK, there is still an over reliance on the export of used tyres to countries such as China, India and Pakistan, who are importing fewer tyres as they become self-sufficient.
"The UK needs a second disposal route for used tyres. Tarmac's commitment to developing rubberised asphalt provides an excellent opportunity to achieve this and deliver environmental savings for this under-used waste stream."
Tarmac claims to be the first company in the UK to develop a new asphalt technology capable of recycling end-of-life tyres into roads.