ETRMA – Members H1 2019 tyre sales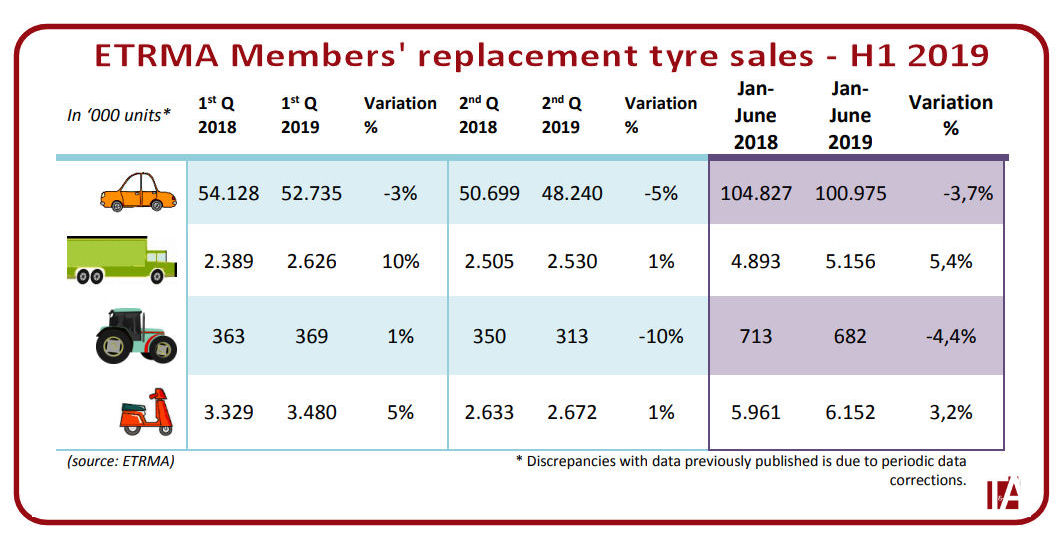 The European Tyre and Rubber Manufacturers' Association has reported its member's European replacement market sales volumes for the first half of 2019, and the figures show mixed results compared with those from last year.
Passenger car tyre replacement sales continued to decrease in the second quarter, falling 5.4 per cent to 48.24 million tyres. Sales volumes fell 3.7 per cent year-on-year in the first half, with ETRMA members selling 100.98 million replacement tyres in the six months until 30 June 2019.
Replacement truck tyre sales volumes in the second quarter failed to replicate the good growth seen in the first three months of the year. Volumes rose 1.0 per cent in the second quarter to 2.53 million units. Sales volumes rose 5.4 per cent year-on-year in the first half of 2019, to 5.16 million units.
Motorcycle tyres showed an increase of 1.5 per cent for the second quarter, to 2.67 million units. Growth amounted to 3.2 per cent in the first half, with 6.15 million replacement motorcycle tyres sold.
After an increase of 1.7 per cent in the first quarter, sales volumes of replacement agricultural tyres dropped 10.6 per cent to 313,000 units in the second. As a result, the segment contracted 4.4 per cent in the first half of the year, with 682,000 units sold.
"The tyre market provides a good picture of the general economic situation," comments Fazilet Cinaralp, secretary general of the ETRMA. "The low passenger car tyre replacement sales mirror new car registrations in the European Union, which also declined in this first semester."
The ETRMA members' European sales include tyres sold in Albania, Austria, Belgium / Lux, Bosnia-Herzegovina, Bulgaria, Cyprus, Czech Republic, Eire, Estonia, Croatia, Denmark, Finland, France, Germany, Great Britain, Greece, Hungary, Iceland, Italy, Lithuania, Latvia, Montenegro, Macedonia, Malta, Netherlands, Norway, Poland, Portugal, Romania, Serbia + Kosovo, Slovenia, Slovakia, Spain, Switzerland and Sweden.