TerraClean technicians take part in hybrid, electric vehicle training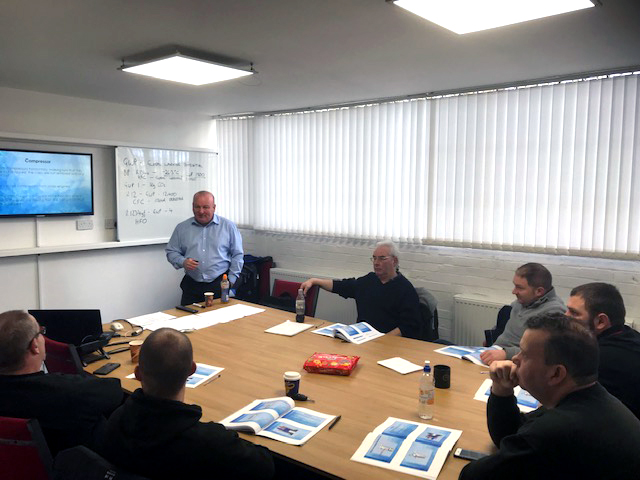 Technicians from TerraClean's service centre network have taken part in a three-day Level 3 IMI certified training course in Hybrid Electric Vehicle Repair and Replacement.
The training – which took place at TerraClean service centre, Galltec Automotive, in Cramlington – was provided by Stephen Burr (AAE MIMI IEng MIET) and designed to ensure TerraClean technicians continue to broaden their expertise and competence on modern electric and hybrid vehicles.
With seven technicians attending the fully-booked course, many travelling from afar, the content gave the technicians the knowledge and skills required to work safely on electric and hybrid vehicles, whilst carrying out diagnostic, testing and repair activities.
Ian Mothersdale, operator of a TerraClean Service Centre said: "I found the EV and hybrid training very informative. It cleared up a lot of mis-information surrounding these types of vehicles and now enables my business to offer services to this expanding vehicle parc."
TerraClean is widely regarded for its training efforts, not just on its TerraClean decarbonizing service and DPF cleaning tool, but also for bringing its network of service centres together to enhance their skills and experience.
Many TerraClean service centres have successfully carried out TerraCleans on hybrid vehicles and so Martin Dowd, Randstad managing director, expects more technicians to take advantage of the courses. "The TerraClean service centre network is supremely technical and see the opportunity in these courses to broaden their expertise and ensure they are best placed to work on modern vehicles.
"We're definitely seeing an increase in demand for decarbonizing of hybrid vehicles. These training courses mean that, as a brand and network, we're able to take the lead in working on these vehicles."
The next training courses will take place at Bullring Autocentre Birmingham on 8, 9 & 10 April. The training will cover: Essential Test Methods – Understanding the fundamentals of electrical and mechanical testing; Diesel Emissions Control Systems (DPF, Catalytic Converters, High & Low Pressure EGR Systems); and, an introduction to Oscilloscope Testing. Please contact Randstad for more details.