New Dunlop 17.5, 19.5-inch truck tyres launched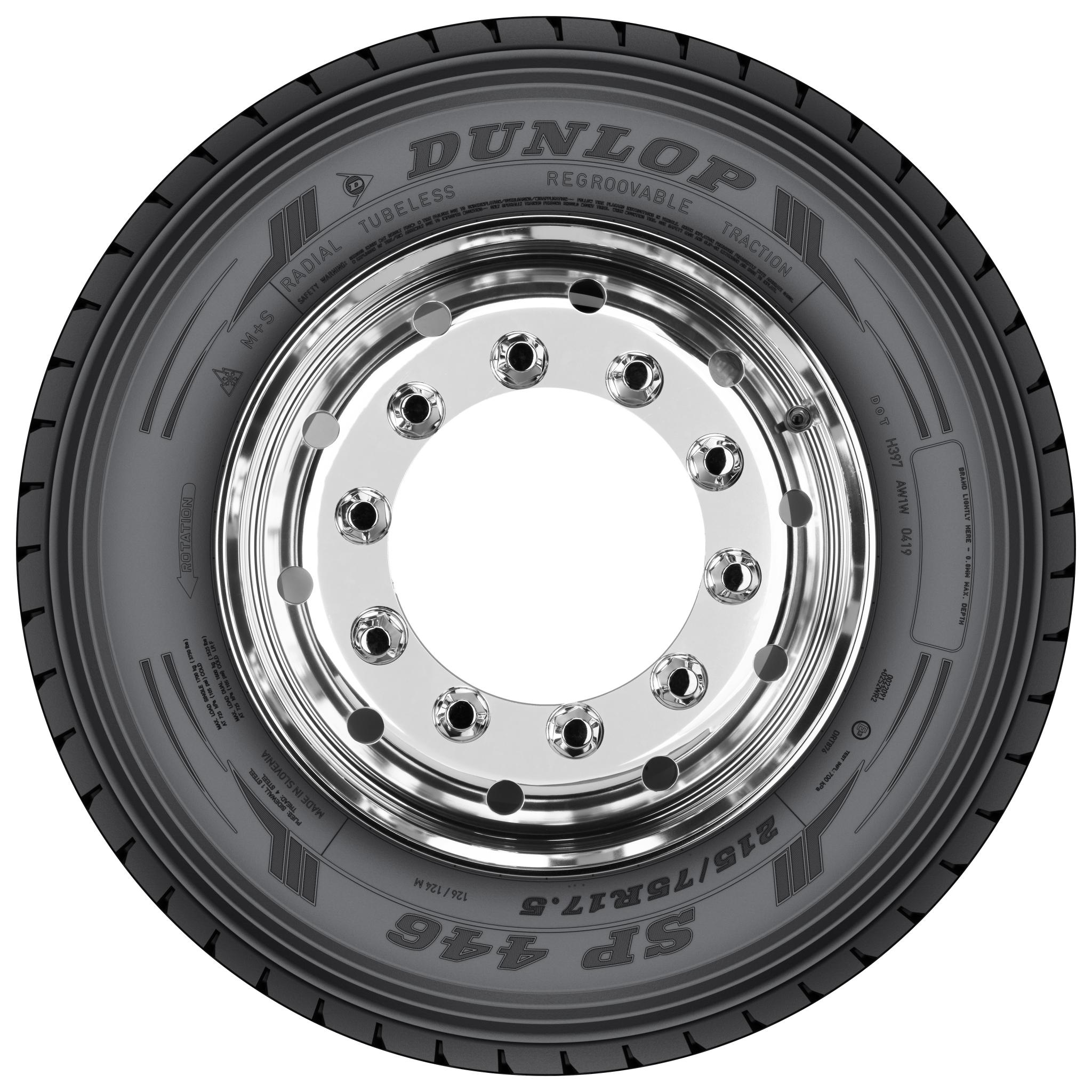 Latest commercial vehicle range optimise durability and traction to handle the move towards high-torque hybrid and electric power trains
Dunlop has launched a range of 20 new truck tyres in 17.5" and 19.5" sizes. The SP346 steer and the SP446 drive tyres are available in 10 variations respectively, and are designed to provide high mileage and durability alongside strong traction. Dunlop's latest commercial vehicle range is also manufactured to provide suitable fitments for rapidly developing electric and hybrid vehicles.
Dunlop states that both the SP346 and SP446 feature its latest design technology with robust casing construction, increasing their versatility and economic operating costs. The tyre manufacturer has targeted long service life with the new models with their high mileage performance and durability both in tough service conditions and extreme climatic situations. The range is Three-Peak Mountain Snowflake (3PMSF) certified for full winter compliance, and has reduced rolling resistance for low energy consumption.
The SP346 and SP446 lines respectively replace the SP344 and SP444 range. Both lines comprise six sizes for 17.5" rims and four for 19.5" making a total of 20 new tyres in all.
"The new Dunlop SP346 and SP446 17.5" and 19.5" lines complement the successful 22.5" range and offer high mileage, strong traction and durability in all applications including long distance operations, regional distribution and in urban conditions." said Benjamin Willot, director marketing commercial tyres Europe. "These tyres not only offer peace of mind for fleets but also predict future changes including stricter winter tyre regulations and the increasing use of hybrid and electric vehicles. The SP346 and SP446 are ready for whatever's ahead."
Exemplifying the new range's improvements over the SP344 and SP444 by comparing the 245/70R17.5 new generation to its predecessors, Dunlop states tread robustness is significantly improved with SP346 while fuel efficiency, wet grip and noise level labels go down respectively from E to D, D to C and from two waves to one with the SP446.
SP346 steer tyre details
The SP346 has a five-rib tread pattern, apart from the 245/70R17.5 and 265/70R17.5 sizes, which have four. Their high mileage potential and increased robustness are benefits derived from this rib design, which is adapted to the size range requirements. The ribs' width help to distribute load pressure evenly and maintain a constant footprint. The resulting Net-to-Gross ratio provides enhanced mileage thanks to the high wearable tread volume.
The new tread design also features a high density of sipes and radial grooves. The sipes improve the flexibility of the tread blocks and provide a high number of biting edges, while the interlocking zig zag design helps limit rib movement. This means less slip and higher mileage potential, combined with improved grip on wet and winter roads.
In the shoulder area, Dunlop has added a multi-radius groove design, improving the tyre's robustness and extending tread life. The variable groove angles improve stone ejection, reducing the risk of casing damage meaning good retreadability.
SP446 drive tyre details
Unlike its predecessor, the SP446 has a directional pattern tread with optimized angle V-shape grooves. These grooves improve the ejection of water, mud and snow, while the V-shaped design increases the tread stiffness and resistance against high-torque stresses, increasing traction and robustness. A high number of sipes increases the tread block flexibility and creates additional biting edges in the footprint for increased traction on hard packed snow surfaces. This means improved grip level on all surfaces throughout the tyre's life as well as winter mobility.
Shoulder tie-bars increase the stiffness of the tread and reinforce the shoulder areas. This reduces block movement and slippage, increasing rib tear resistance in high torque applications and ensuring even shoulder wear. Dunlop adds that optimised centreline humps increase mileage potential and traction, and reduce rolling resistance. These humps connect the tread blocks and reduce tread wear for improved late life traction.