Best in braking: Michelin crowned Auto Bild's 'Manufacturer of the Year'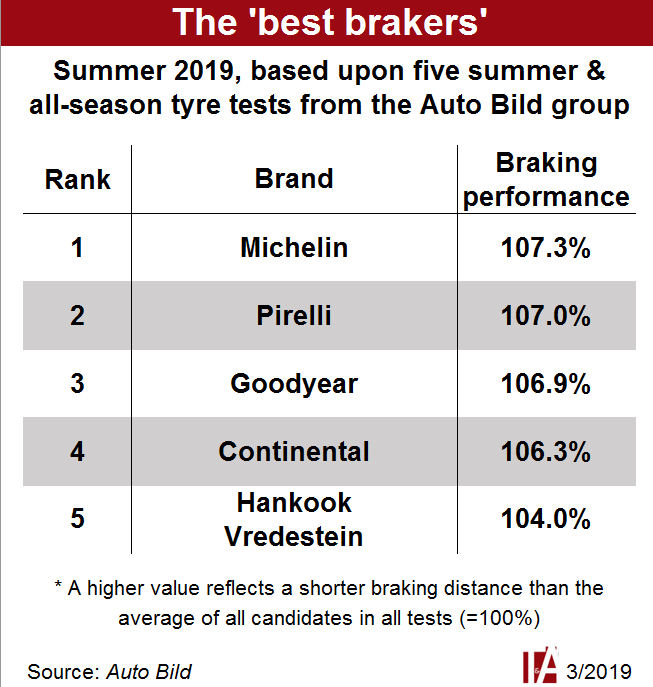 Although tyre tests cover everything from handling to comfort and fuel consumption, the value of a tyre's role in bringing a vehicle to a safe stop can't be underestimated. Auto Bild agrees – it's the criterion the motoring magazine uses to determine which tyres to further examine in its tyre tests, and which it should eliminate.
Auto Bild has now ranked the wet and dry braking results from five recent tests appearing in its main and specialist titles titles to determine its 'Manufacturer of the Year -Summer 2019'. The combined result of both braking tests was taken from summer tyre comparative evaluations published in Auto Bild, Auto Bild Allrad and Auto Bild Sportscars as well as the all-season tyre tests that appeared in Auto Bild Allrad 5/2018 and Auto Bild 39/2019.
Tyre brands that participated in at least three tests received an average percentage value for all individual braking test results. Michelin led the table with 107.3 per cent, and was therefore named Manufacturer of the Year. The French tyre maker was followed by Pirelli (107.0 per cent), Goodyear (,106.9 per cent) in second and third place. Continental (106.3 per cent) finished fourth ahead of joint fifth finishers Hankook and Vredestein (104.0 per cent).