Young drivers are more familiar with emojis than tyre warning lights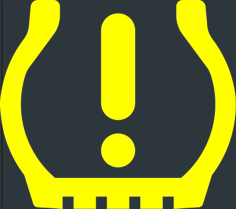 Research conducted in the USA and commissioned by Goodyear Auto Service and Just Tires found that while 88 per cent of young drivers can correctly identify the eye-roll emoji, only 51 per cent recognized the TPMS warning symbol.
In fact, 49 per cent of younger drivers and 39 per cent of overall drivers were unable to recognize the TPMS warning symbol in the survey of more than 1,000 US drivers.
The study also found that most drivers surveyed are not taking precautionary actions to prepare their cars for winter. Amongst drivers who live in areas with usually cold winters, less than half (42 per cent) get their tyres checked in advance of the winter season. And almost two in five winter drivers (37 per cent) do not take any action at all to prepare their cars for winter unless they have an issue. As a general rule of thumb, drivers should check their tyres monthly, especially during temperature shifts of 10 degrees or more.
Zeno Research & Insights conducted the online survey among n=1,075 US adults aged 18+ who have a driver's license and access to a vehicle. The survey was conducted on 24-25 October 2018 and has a margin of error of +/- 3 percentage points.