It's "high time" for anti-dumping duties, says JK Tyre & Industries' Singhania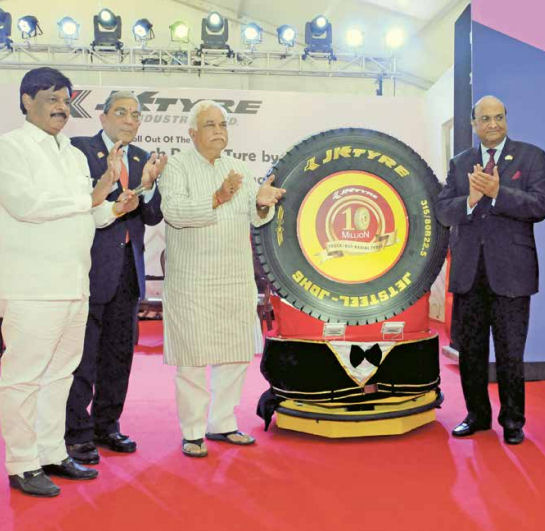 Days after India's Directorate General of Anti-Dumping published its final findings into truck and bus tyres imported from China and recommended the introduction of anti-dumping duties for certain products, the chairman and managing director of the country's largest domestic producer of truck and bus radials supported the measure with comments of his own. During his speech at JK Tyre & Industries Ltd's annual general meeting on 4 August, Dr Raghupati Singhania declared it is "high time" India's government undertook such a step.
"It is a matter of great concern that Chinese truck/bus radial tyres continue to flood the market unabated at dumping prices, thereby threatening the large investments made in the recent past," stated Dr Singhania, adding that it is "indeed high time for the Government to undertake necessary steps by (the) imposition of anti-dumping duties on such low-cost tyres." This would be, the chairman opined, in the "true spirit" of providing a "level playing field to the Indian industry."
Domestic manufacturers aren't just threatened by low-cost imports from China, noted Singhania. Other Asian countries that have free trade agreements with India are also able to supply the market under terms he considers less than fair and equal. The JK Tyre & Industries chairman and managing director commented that almost 80 per cent of tyre imports into India attract concessional duties, thereby "eroding a significant part of the market for the domestic tyre industry that has already undertaken large-scale capacity additions, with huge investments of nearly Rs 45,000 crores (£5.4 billion) in the last few years." The problem is exacerbated, he added, by the absence of customs duty concessions on the natural rubber that domestic tyre makers must import to compensate for shortfalls in supply from local rubber growers.
JK Tyre & Industries' acquisition of Cavendish Industries and its incorporation as a company subsidiary last year for almost Rs 22 billion (£264.6 million) gave the tyre maker a further capacity of 1.2 million truck radials, while completion of the second, Rs 14.3 billion (£172.0 million) phase of construction at the JK Tyre plant in Chennai last year boosted its production capacity to 1.2 million truck and bus radial tyres a year (as well as 4.5 million passenger car tyres). In addition, investments in the JK Tyre plant in Mysuru totalling some Rs 12 billion (£144.4 million) over the years have built up the facility's annual truck and bus tyre capacity to 3.5 million units.
The tyre maker now covers Indian market demand for truck and bus radials with three brands – in addition to the JK Tyre brand for the premium segment and Vikrant for the mid segment, the company recently introduced the former Cavendish brand Challenger into the value segment of its product portfolio. "With this we have a complete range for every consumer need and our market share reflects the success of this strategy," shared Singhania.
JK Tyre & Industries was the first Indian tyre maker to produce truck/bus radials and today holds the highest market share in India's truck/bus radial segment. In its 2016-17 annual report, the company reported 17 per cent year-on-year growth in volumes and seven per cent growth in sales within its truck and bus radial business during the financial year. Radials accounted for 55 per cent of the company's annual total truck/bus segment sales, above the 46 per cent achieved within the segment throughout India.