Truck/bus radial production reaches 10M mark at JK Tyre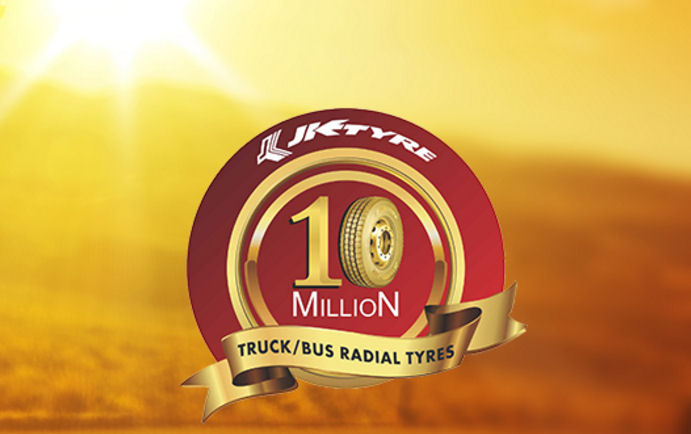 Radialisation of the truck tyre segment in India has been a major subject over the past decade, and JK Tyre and Industries Limited considers itself the "undisputed leader" in this field. The tyre maker produced its first truck and bus radial in 1999 and currently holds the capacity to produce 3.5 million units per annum. On 22 August, the 10 millionth radial truck tyre produced rolled off the line at the company's Vikrant plant in Mysuru (Mysore).
The Vikrant facility was originally owned by India's government, however JK Tyre acquired a majority share in Vikrant Tyres Limited in 1997 and the two companies merged in 2002. A substantial investment was made in the Vikrant factory, and JK Tyre opened what it claimed was India's first dedicated truck and bus radial plant there in October 2009. The tyre maker says it invested 12 billion (£135.1 million) in bringing the facility to where it is today.
"Starting 1977, when we set up our first tyre plant in Rajasthan with an annual capacity of 5 lac (500,000) tyres, we have come a long way," shares Dr Raghupati Singhania, chairman and managing director of JK Tyre & Industries Ltd. "Today JK Tyre has grown multifold by setting up greenfield plants, expansion of its existing capacities and acquisitions." This last category includes the purchase of Vikrant Tyre, Tornel in Mexico and the acquisition of three factories from Cavendish Industries.
JK Tyre operates 12 plants globally and is gearing towards a total annual capacity of 35 million tyres. The recent Rs 22 billion (£247.6 million) acquisition of Cavendish Industries saw the company enter the high growth two and three-wheeler tyre segment. "Today we manufacture complete range of tyres – from a three-kilo scooter tyre to the 3.7 tonne ultra large OTR tyre," added Singhania.
The chairman and managing director also gave word that the second, Rs 14.3 billion (£160.9 million) phase of construction for JK Tyre's radial plant in Chennai was completed during the last quarter. The facility now holds the capacity to produce 1.2 million truck and bus radial tyres and 4.5 million passenger car tyres a year. Plans have been drawn up to eventually increase these two respective capacities to 2 million and 10 million units. Capacities in Mexico are also being increased, from 3.5 million tyres per annum to a total of 5 million.