Magna sells 32 51-inch tyres to Saudi Arabia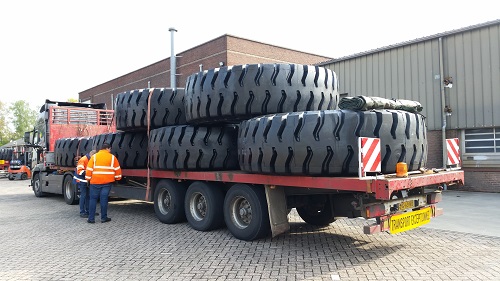 Magna Tyres reports that the first batch of 16 36.00R51 MA09 tyres (of a total of 32) en route to their destination in the Kingdom of Saudi Arabia, where they will be mounted on two giant crushers. These crushers are constructed by Thyssenkrupp in Germany for one of the leading cement companies in Saudi Arabia.
The Magna MA09 is designed for use on large dump trucks at the most severe mining and quarry applications. The reinforced sidewall is designed to provide maximum protection against cuts and damage.
At the same time, the deep E4 Tread pattern offers resistance to cutting, chipping and shock damage and enhances tyre life.
The tyre also features an all-steel radial construction. Improved protector plies optimize load performance and operator comfort. Meanwhile, new improved high-tech casings reduce heat build-up inside the tyre.