Global ADAS market to surpass 302 million units a year in 2022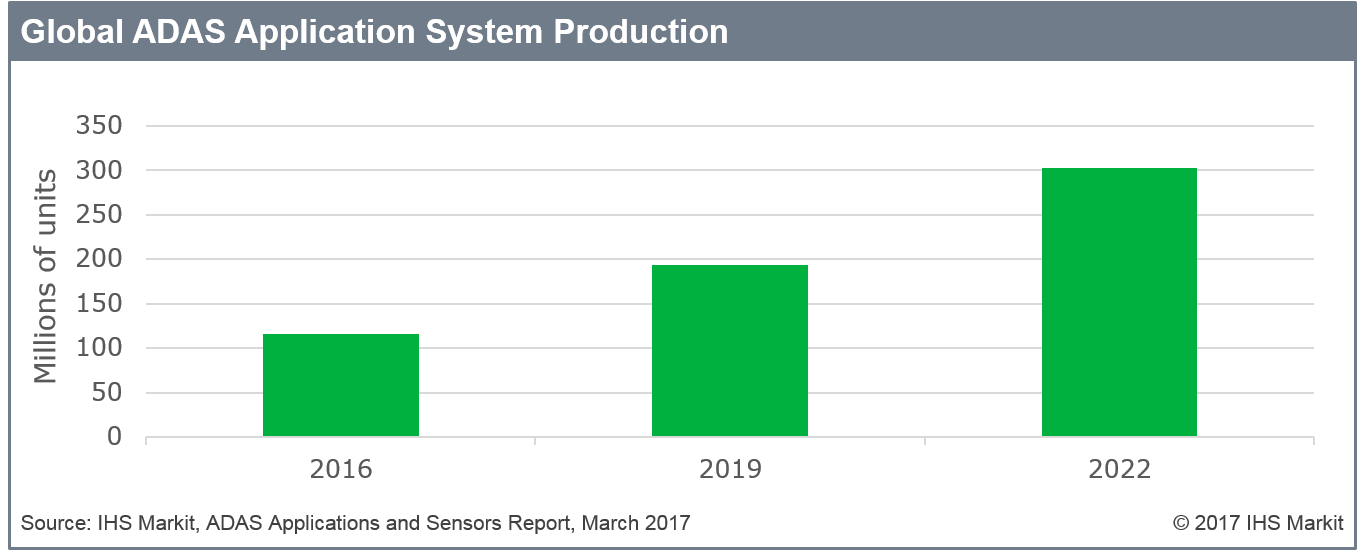 The global automotive advanced driver assist systems (ADAS) market will surpass 302 million units annually in 2022, according to new analysis from business information provider IHS Markit.
In its latest ADAS Applications and Sensors Report, IHS Markit forecasts that global ADAS growth will be led in part by new introductions of automated autopilot, driver monitoring systems and side and rear mirror cameras, each aimed at making the driving activity safer, more convenient or more efficient. This growth is enabled by advances in sensor technologies including radar, camera and lidar sensors that will number more than 232 million units annually in 2022, the report says.  Combined, implementation of these technologies will enable higher levels of automated driving on a global scale.
"Many OEMs have started offering partially automated systems that execute accelerating, braking and steering together," said Aaron Dale, senior automotive analyst at IHS Markit and the report's author. "These systems combine multiple sensors and multiple single-function ADAS features to allow the vehicle to drive, albeit under driver supervision.  While some of these individual technologies are well-established, combining functions and sensors requires higher levels of integration as well as substantial computing power."
Current systems manage the driving task at low speeds as well as high and can complete lane changes with driver input. Future systems may use artificial intelligence to navigate more complex driving environments on their own.  This functionality extends the integration of forward-sensing systems such as adaptive cruise control (ACC), lane keeping assist (LKA) and traffic sign recognition (TSR) by integrating blind spot information (BSI) and rear-sensing to provide complete 360-degree awareness.
Automated driving systems today have guided the industry into level 2 of the Society of Automotive Engineers definitions where constant driver supervision is required. The first level 3 capable systems are just around the corner, which will remove the need for constant driver supervision in certain circumstances, such as in traffic jams or on well-maintained stretches of highway. Europe and North America will see the first deployments of L3 technology, but consumer acceptance remains a key question on the path to widespread adoption.