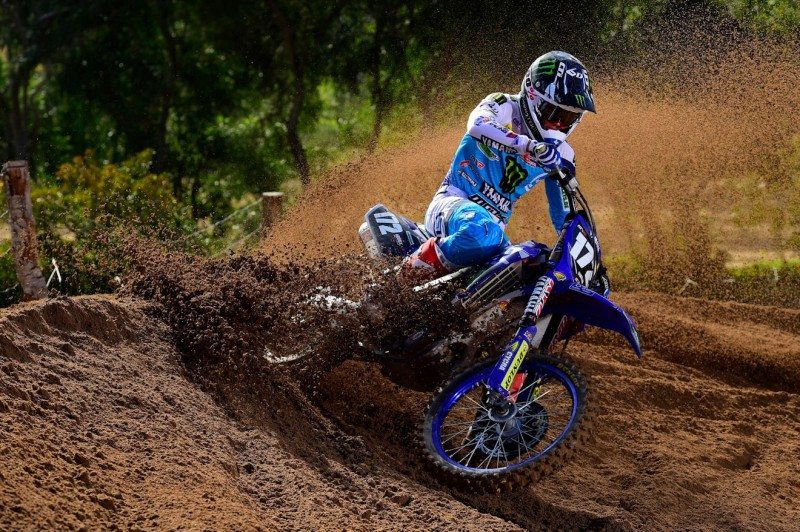 A total of 23 MXGP, MX2 and WMX riders will use Dunlop products during the 2017 season
With the FIM Motocross World Championship (MXGP) season starting in Qatar in less than two weeks, more teams and riders than ever are committed to competing on Dunlop rubber. The tyre maker shares that a total of 23 MXGP, MX2 and WMX riders will use its products during the 2017 season, including five teams in the top category, seven in MX2 and one in the women's WMX class. The 23 contenders are racing with Kawasaki, Yamaha, KTM, Husqvana and Honda machines.
Dunlop's partner squad remains the Monster Energy Kawasaki Racing Team (KRT), with Clement Desalle and Jordi Tixier looking to continue Dunlop's run of wins from the end of the 2016 season. The pair have already taken their first double podium of the year with a 1-2 at La Capelle-Marival's French pre-MXGP season event.
Wilvo Yamaha, another factory supported team, has chosen to compete on Dunlop tyres, with former Dunlop-winner Shaun Simpson and Arnaud Tonus, who is returning to MXGP competition after competing in the USA.
Three factory supported and four privateer teams – a total of 14 riders – will race on Dunlop's MX range in the MX2 class. The Kemea Yamaha Yamalube squad includes Dunlop's highest MX2 finisher in 2016, Benoit Paturel who clinched third. The Frenchman claimed the MX2 win at La Capelle-Marival. Another MXGP warm-up event winner was Michele Cervellin who won the MX2 class at the Italian race in Ottobiano on his Honda HRC machine.
Bidding to regain her FIM Women's Motocross World title is Kiara Fontanesi, who is looking to claim her fifth title after a difficult 2016. Kiara has returned to racing a Yamaha bike and will race in the first round of the WMX Championship in Indonesia, round two of MXGP.
Teams and riders will be advised on tyre choice by former Supermoto champion Eddy Seel, who continues to oversee Dunlop's FIM World Championship operation. The core range of tyres riders can choose from is based on three specifications: The Geomax MX11 sand tyre; the Geomax MX3S, the soft to intermediate terrain tyre Dunlop anticipates will be used at the majority of rounds; and the Geomax MX52 tyre for intermediate to hard terrain conditions. Seel has recommended the MX3S on both front and rear wheels for the opening round at Losail.
Category: Motorsport