BFGoodrich-shod Peugeot triumphs at 2017 Dakar Rally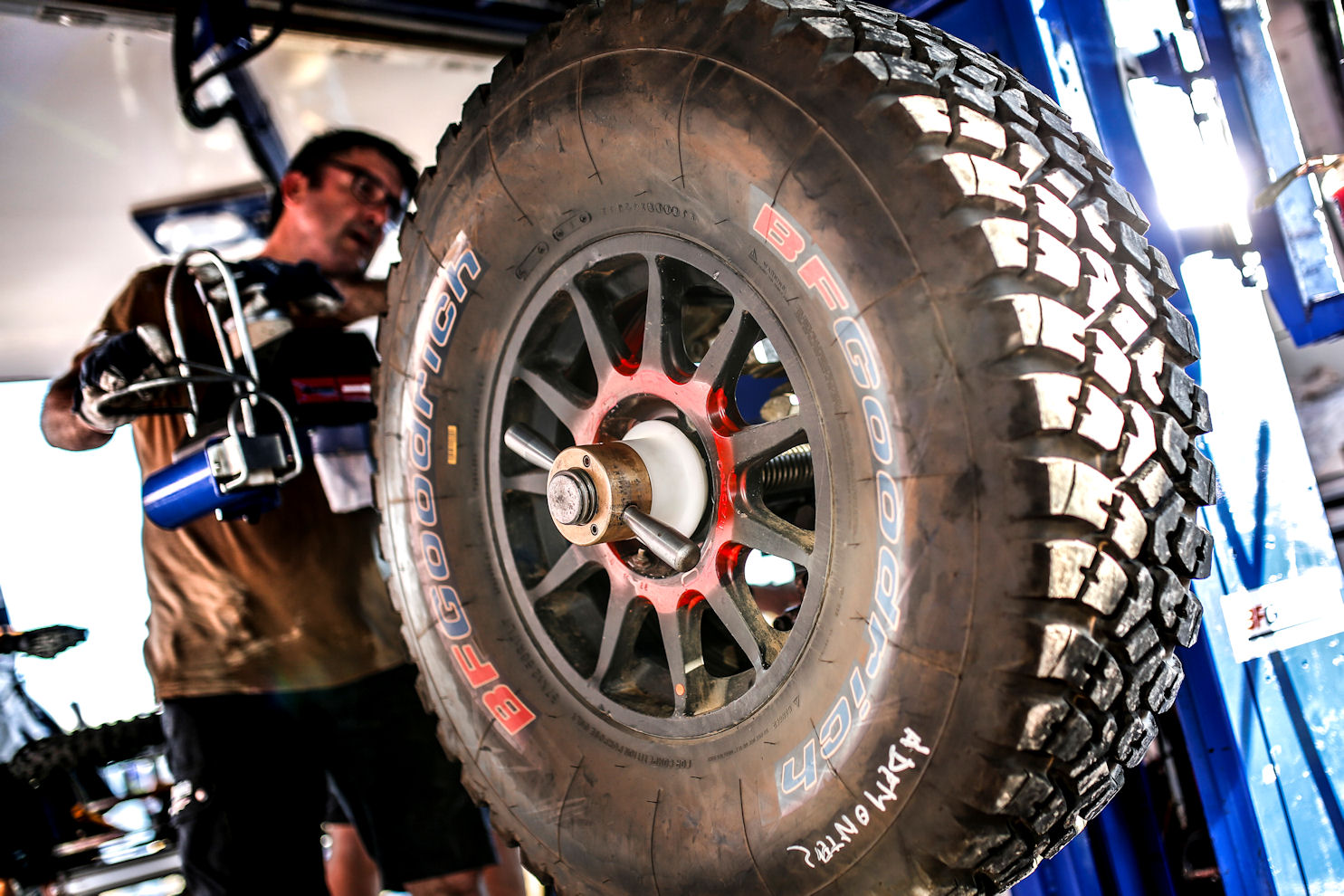 The 2017 Dakar Rally finished on January 14, and Peugeot Sport and BFGoodrich – which returned to the world's most famous cross-country rally after a four-year absence – monopolised the podium following the two-week event's conclusion in Buenos Aires, Argentina.
Like the rest of the field, winners Stéphane Peterhansel and Jean-Paul Cottret had to contend with a gruelling cocktail of complex navigation, tough off-road driving and appalling weather. The conditions during the 5,400 mile run through Paraguay, Argentina and Bolivia also served to test the reliability and performance of the pair's BFGoodrich tyres. The highly-varied challenge also included big temperature fluctuations, sharp stones and rocks, and low-grip soft ground that pushed both the crews and their tyres to the limit.
Multiple Dakar winner Marc Coma, today the rally's sporting director, announced before the start that navigation promised to be a decisive factor on this year's event. Co-drivers were effectively kept on their toes continuously by the lack of visual landmarks, the frequent off-road sections and a new, harder type of Way Point that was used for the first time this year.
After the start of the event in stifling heat in Paraguay, competitors remained at altitudes of more than 9,000 feet for practically a week as the route moved into Bolivia where the caravan was greeted by torrential downpours. The heavy rain made many places impracticable and led to several landslides, the biggest of which occurred near the village of Volcan in Jujuy province, Argentina. Stages 6 and 9 were cancelled altogether, while the organisers were compelled to modify certain other competitive sections. Crews had to be on their guard from start to finish, but Michelin notes that they were able to count on their BFGoodrich tyres to see them over the rough, slippery terrain and more delicate portions.
"This year more than ever, the extreme difficulties that are part and parcel of the Dakar Rally allowed us to showcase the performance and strength of our BFGoodrich tyres which are accustomed to dealing with the elements, especially on the highly demanding Baja races on which they compete in North America," comments Michelin motorsport director Pascal Couasnon. "The Dakar's organisers and the poor weather provided us with a particularly tough menu this year. The difficulties competitors had to cope with over the two weeks allowed them to appreciate the many qualities of their BFGoodrich tyres.
"Congratulations to Peugeot Sport on their one-two-three finish, and I would also like to underline the runs produced by Toyota Gazoo Racing and Mini," adds Couasnon. "The BFGoodrich All-Terrain T/A KDR delivered strong performance on the latter's four-wheel drive cars and allowed the Hi-Lux pick-ups and Minis to challenge the Peugeot 3008DKRs on practically every stage."
Winning driver, Stéphane Peterhansel, states: "This year's result was superb for Peugeot, and it was great to be able drive the 3008DKR. It is an exceptional car. The outcome was in the balance all the way to the end and we fought hard with our team-mate Sébastien Loeb to the flag. It was quite stressful but we had tremendous fun driving. Our BFGoodrich All-Terrain T/A KDR2 tyres rose to the occasion perfectly."
Three types of BFGoodrich tyre were provided for competitors in the 2017 Dakar Rally:
BFGoodrich All-Terrain T/A KDR2 (37×12.5-17) for cross-country rallying: This tyre's characteristics are similar to those of the BFGoodrich Baja T/A KR2, but with a sportier profile. Developed specifically for two-wheel drive cars, Michelin says it provides excellent lateral grip on all types of surface, plus outstanding driveability and stability under braking. The BFGoodrich All-Terrain T/A KDR2 was used on the Peugeot 3008 DKRs.
BFGoodrich All-Terrain T/A KDR (245/80R16) for four-wheel drive cars: The BFGoodrich All-Terrain T/A KDR is similar to the KDR2 and was engineered to shrug off the punishment dished out by the Dakar's notoriously gruelling stages. This was achieved thanks to a strong but flexible casing that is capable of running at speed with low air pressures, yet still deliver optimal traction. The BFGoodrich All-Terrain T/A KDR equips four-wheel drive vehicles such as those that were fielded on the 2017 Dakar Rally by Toyota/Overdrive, Mini X-Raid and Mini ALL4.
BFGoodrich Baja T/A KR2 (37/12.5-17) for two-wheel drive buggies: This recently-designed tyre features a number of specific solutions. Its tread blocks are designed to optimise traction on soft ground and to deliver balanced braking, while its flexible construction ensures an optimised contact patch when running with low air pressures. Its reinforced bead areas protect against side wall damage. The BFGoodrich Baja T/A KR2 is considered a particularly versatile solution for the unique technical characteristics associated with buggies.