Predictive algorithms & proactive maintenance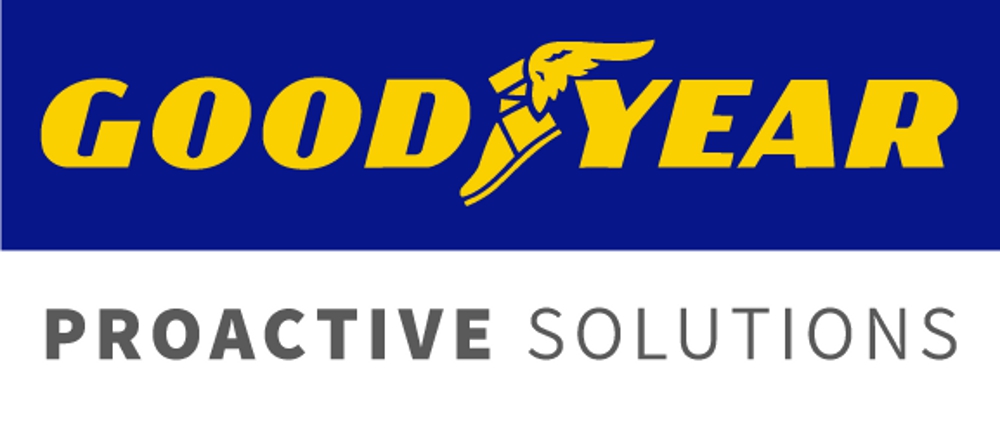 Commercial fleets face a future that presents them with both opportunities and challenges. The growth of online shopping is bringing down the number of bulk deliveries made and requires more refined logistics solutions, autonomous vehicles will soon be an inescapable reality, while the approach of 5G connectivity is opening up new horizons for connectivity and experiential learning. The future also offers opportunities and revenue growth potential within the fleet management market, an industry said to be currently worth US$10.5 billion a year. At the launch of a new pan-European fleet business in November, Jean-Claude Kihn, EMEA (Europe, Middle East and Africa) region president at Goodyear Tire & Rubber, stated that the company was prepared for this future and looking forward to it.
Goodyear is meeting the future head-on with a new business called Goodyear Proactive Solutions. Kihn sees the business as one that integrates Goodyear's "understanding of future mobility trends, the latest digital technology and determination to anticipate our customers' needs.
"We have a compelling proposition for our fleet customers – tyres, services, solutions, and now a connected business model," elaborates the EMEA president. "Connectivity is already present in existing Goodyear technologies such as RFID tags, and in services like FleetOnlineSolutions. We now want to take this a significant step further. We're utilising the latest in connected technology to bring commercial fleet customers operational intelligence that has a direct impact upon their bottom line."
Michel Rzonzef, vice-president of the Commercial business for Goodyear's EMEA region, was also on hand to welcome the new business's launch, and commented: We are witnessing a transformational shift that is reshaping commercial trucking." Rzonzef observes that, in a digital economy, consumers and businesses expect faster, cheaper and more flexible deliveries, and in response the industry is becoming increasingly connected and automated. "Goodyear Proactive Solutions offers fleet managers a one-stop, user-friendly solution to help reduce their total cost of operations and improve the uptime, efficiency and sustainability of their fleets."
Goodyear Proactive Solutions is described as a connected vehicle-to-fleet, real time operations management solution that goes beyond the fleet services Goodyear currently offers by taking data and using it to predict and solve problems within a fleet before they occur. To achieve this, Goodyear drew upon data acquired from the more than 350,000 vehicles managed through its FleetOnlineSolutions in Europe; it then developed a set of predictive algorithms that can help fleets plan their tyre and vehicle maintenance, and also identify and solve other issues that lead to unnecessary additional costs. Goodyear Proactive Solutions uses telemetry to transmit information from a vehicle to a central server, where a Goodyear algorithm capable of predicting tyre life analyses the information. The results, depending on the level of service required, are transmitted to the fleet or Goodyear to enable necessary action to be taken.
The new business is headed by André Weisz, who joined Goodyear from Daimler FleetBoard GmbH in July. Introducing Goodyear Proactive Solutions at a press conference in Brussels, the recently-appointed general manager of the business described it as "a culmination of Goodyear's experience and strength" and a further step away from being "just" a tyre manufacturer: "Our ambition is to become an integrated automotive solution provider, partnering with customers. We are not just offering telematics or data – we are offering solutions."
What does Goodyear Proactive Systems do?
Most fleets today are still serviced by a reactive maintenance model – that is, problems are repaired as they arise – or else via preventative maintenance carried out according to a fixed schedule. While the second of these represents an improvement on the wait and see approach, Goodyear is confident it can specifically pinpoint problem areas at the right time. "Our goal is proactive maintenance using the predictive algorithms we've developed to plan maintenance," comments Weisz. "The algorithm alerts drivers or fleet managers up to two weeks in advance that they'll have a problem. But that's not all – as we have over 2,000 TruckForce dealers across Europe we go one step further and solve this problem. We are offering our customers a complete solution."
Weisz states that in order to integrate with customers and support them in their day-to-day business, Goodyear Proactive Solutions looked at the huge base of vehicles that Goodyear already manages in order to identify their requirements and how these can be best met. "The result was that we identified two major families of solutions – Proactive Tyre, a solution that optimises everything related to the tyre, and as a result the reliability of road operations. The second solution is more focused on the customer's daily operations and business, with a goal of reducing costs and increasing road safety. We call this Proactive Fleet."
Proactive Tyre offers a broad range of services to users of both Goodyear and competitor brand tyres. These are bundled together under two options:
• Tyre Pressure Monitoring System (TPMS) – this constantly takes active tyre pressure and temperature readings in order to reduce breakdowns and optimise uptime and cost of operations. "In most cases, tyre breakdown isn't caused by a sudden blowout, rather by slow leakage," comments Weisz. "The point is that before you get a problem, you'll always have some time."
• Drive-over-Reader – this automatically collects tyre tread depth and pressure whenever a vehicle accesses or exits a depot to better manage tyres and related maintenance.
The Proactive Fleet solution includes two options:
• Driver behaviour – data on a driver's performance according to 12 parameters is transmitted, enabling fleets to take active control on driving style in order to improve fuel economy and increase tyre life through driver training programmes.
• Track and Trace – uses GPS to provide fleets with real time asset location and movement information to improve efficiency and customer services as well as locate stolen vehicles.
A high level of accuracy
A Goodyear Proactive Solutions solution typically includes the pairing of a predictive algorithm with a "best evaluated" system, be it a track and trace or a drive over TPMS reader. Goodyear does not partner with any particular manufacturer here, preferring instead to see what products are available on the open market. "Proactive Solutions always wants to use the best system that we find in the market, so we always check and scan the market for what's out there that would best fit the customer's needs. If we don't find anything we will develop it ourselves, as we did with the predictive algorithm," shares Weisz.
"The benefit we give the customer goes beyond just installing something in his vehicle," the general manager of Goodyear Proactive Solutions adds. "We manage and deal with data, and if a customer already has good systems, we will use them. We don't focus on hardware supply, and therefore we always strive to use the most suitable hardware system available."
Goodyear has spent the last two years designing and developing its fleet management solutions in partnership with commercial fleet operators, and it claims these pilot partners have reduced tyre-related breakdowns by up to 75 per cent and reduced monthly fuel bills by up to €300 per vehicle per month, given a diesel price of circa €1 per litre. Tyre maintenance costs for the fleets is said to have fallen by up to 70 per cent, while their carbon footprint has improved due to fuel consumption decreasing by around ten per cent. Weisz: "The added value we generate is much higher than what we charge for it; we hear from our pilot customers that our algorithms' predictions are already very accurate."
This accuracy is expected to increase even further as more data comes in; these are still early days for Goodyear Proactive Solutions. "We are launching a new business and we already have a very interesting portfolio of solutions. But as we speak, we are already working on new projects with new customers that will bring new solutions and new approaches. The journey has just started and there is much more to come," concludes André Weisz. "Stay tuned."
Europe is the first region to benefit from these new solutions, however Goodyear anticipates that similar packages will be introduced in other markets at a later date. Goodyear Proactive Solutions is now available in Austria, Belgium, France, Germany, Italy, Luxembourg, Netherlands, Poland, Portugal, Spain, Switzerland, and the United Kingdom. Further additions to the portfolio of applications are in development, and are expected to be introduced in 2017.
stephen.goodchild@77.237.250.82