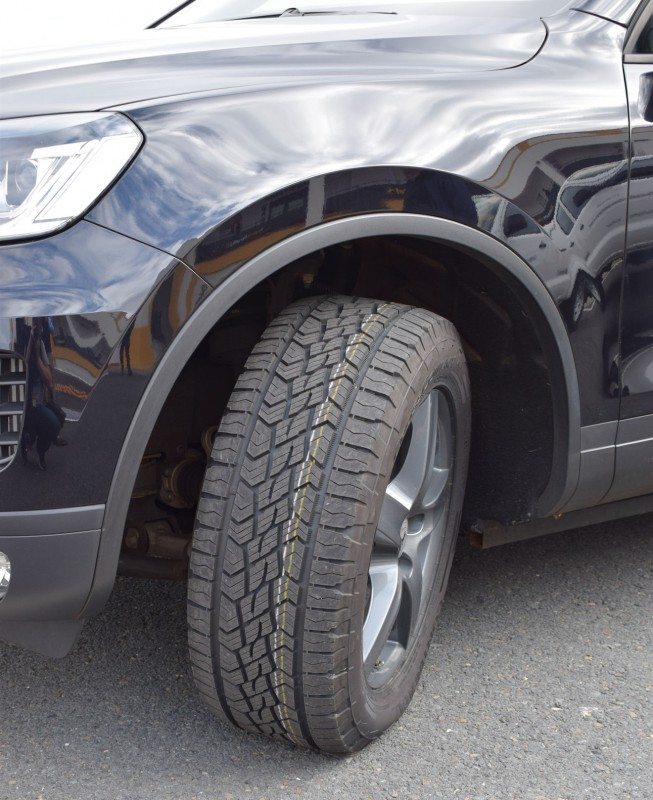 Continental CrossContact ATR
A new summer product has entered the Continental SUV tyre portfolio to fill the gap between the ContiCrossContact AT, which was developed for 50 per cent off-road use, and the company's more on-road oriented lines. The CrossContact ATR is already available in a number of sizes and is designed for 70 per cent on-road, 30 per cent off-road use.
Marco Gellings, Continental's EMEA region director of summer tyre line development, shares that when developing the CrossContact ATR the manufacturer sought to give the tyre a more premium look than was applied to off-road products in the past; a more upmarket sidewall design thus accompanies the tyre's "aggressive" shoulder design.
The shoulder features tread block extensions drawn deep into the sidewall to protect against lateral damage, while the large tread blocks and compound offer strong resistance to cuts and cracks and are configures to facilitate the ejection of stones from the grooves. The presence of a rim protection rib protects both the rim and tyre in the event of contact with the kerb or with obstacles in tough terrain. Gellings notes that these features enables CrossContact ATR users to obtain high mileages from their tyres, even when subject to frequent off-road use.
The CrossContact ATR is designed for predominately on-road application and must therefore meet the EU regulations for noise now coming into force. To ensure the tyre doesn't exceed the new two soundwave label limit, the developers gave it noise blockers in the shoulder area, which block sounds generated in the centre of the tread pattern and reduce the soundwaves leaving the tyre's footprint.
Good grip on loose surfaces is essential for off-road use, and Continental's developers have equipped the CrossContact ATR with 'grip teeth' between the grooves, as well as a heavily-siped, open tread design.
This CrossContact ATR is initially available in 21 sizes for 15 to 20-inch rims and in widths from 205 to 275 mm, with aspect ratios of between 40 and 80 percent. The range will grow in the first half of next year with the addition of LT metric sizes; a total of 32 aftermarket sizes will be available. Original equipment approval for the Toyota Hilux (sizes 265/65 R17H and 265/60 R18H) is expected in the first quarter of next year.
Category: Product News