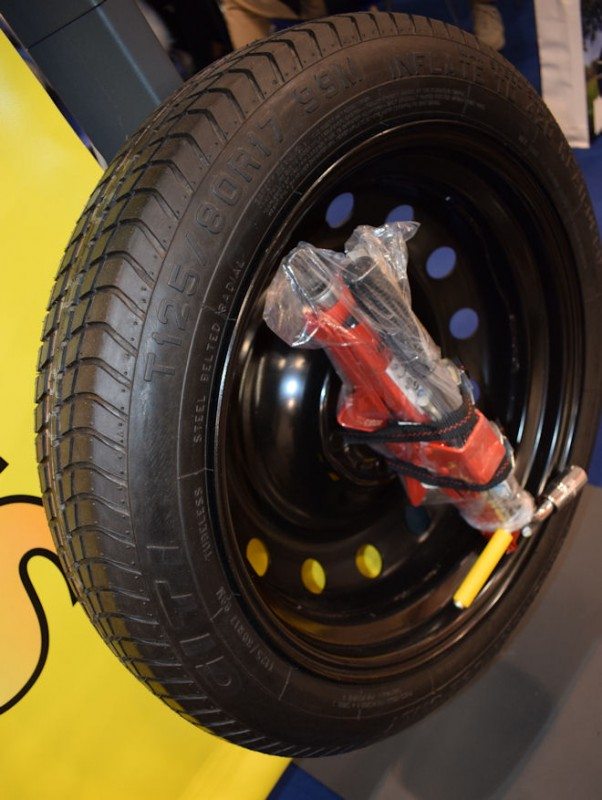 The PS Aftermarket Space Saver is sold together with a jack, key and (not pictured) storage bag
While the spare wheel has been spurned in favour of sealant kits in numerous late model cars, in many cases the niche where the spare would have gone remains under the boot or luggage compartment. Motorists who find the change to alternative puncture solutions irksome and long for a return to the trusty spare may find a new product from Pneus Service to their liking – at this year's Reifen show, the Italian company introduced the latest addition to its PS brand of wheel products, the Aftermarket Space Saver.
This spare wheel kit is sold complete with jack, key and storage bag, and Pneus Service owner Davide Barigazzi comments that products such as this "could previously only be found in car dealerships, if at all, and at prices that discouraged their purchase." Niki Cendamo, who is responsible for sales at Pneus Service, adds that the Aftermarket Space Saver range currently covers more than 80 per cent of Europe's car parc, and Pneus Service aims to increase this coverage even further. The full range should be available by the end of October. In regards to certification, Cendamo points out that the Aftermarket Space Saver is an exempt product.
The PS brand debuted about three years ago and was first used on a range of Chinese-made, ECE 124 certified steel wheels that Pneus Service sold in Italy. The company now wants to expand the PS brand outside of its home market, and aims to establish the brand in Europe before looking at markets further afield.
Category: Product News