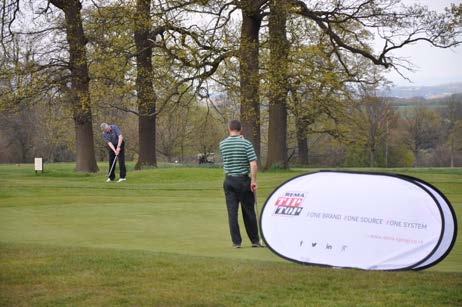 Rema Tip Top UK hosts annual customer golf day at Rudding Park, Harrogate
Rema Tip Top UK's corporate golf day was bigger and better following the success of the 2015 event, the parts and equipment supplier stated. Employees and their automotive and industrial customers played two rounds of golf and enjoyed a three course meal at Rudding Park in Harrogate, North Yorkshire.
Rema Tip Top chief executive Mark Insley said: "It was great to welcome such a wide range of our valued customers who play such an important part in the business. The weather was fantastic and it was a very enjoyable day with great company."
The sunny day kicked off as the groups of four began playing the Repton Short Course. This course consists of six par 3 holes offering different challenges through the different terrain the grounds have to offer. The course also has its signature 5th hole providing a true-­to-­life replica of the world-­famous 17th at Sawgrass, Florida.
After the short course it was lunch and then off to the 18 hole par 72 Hawtree Course which runs through 18th century parkland. On this course there was the opportunity to win the nearest the pin on the 8th hole and longest drive on the 18th.
The golfers then relocated to Rudding Park's Clocktower restaurant where they enjoyed a three course meal. The meal was followed by a presentation of the trophies and prizes for the golf competition.
Insley was the employee winner for the second year running with Gordon Thompson of Gates Tyres taking the first place for the guests. William Watson from Plume Tyres won longest drive on the 18th hole and Andy Christmas from Lodge Tyre won nearest the pin.
The night ended with comedian Josh Daniels providing entertainment.
Category: UK News