Brembo celebrates 100 millionth brake disc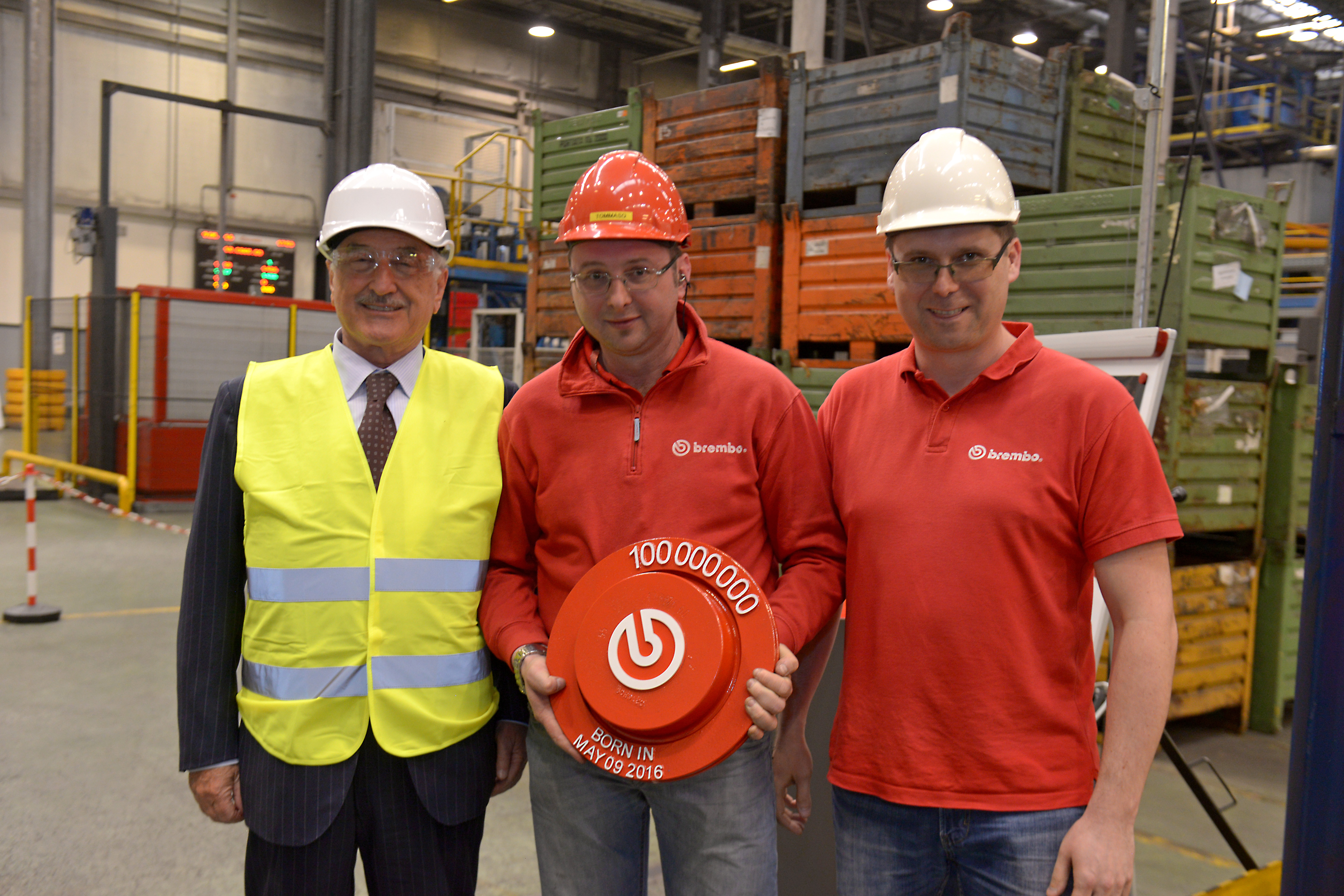 Total sales up 10%; UK sales up 24%
Brembo's board of directors, which is chaired by Alberto Bombassei, met at the firm's Polish factory in Dabrowa Gornicza on Tuesday 10 May to celebrate the production of the firm's one-hundred-millionth disc. At the same time Brembo's board approved the group's quarterly results from 31 March 2016.
Brembo Group's net consolidated revenues amounted to 563.6 million euros in the first quarter of 2016, up 9.6 per cent compared to the first quarter of 2015. On a like-for-like exchange rate basis, revenues increased by 10.5 per cent.
At geographical level, sales in Germany rose by 11.4 per cent, in the United Kingdom by 24 per cent and in France by 13.7 per cent. By contrast, Italy reported a slight decrease (-2.6 per cent).
Asian countries continued on their positive performance: India grew by 9.0 per cent (+15.6 per cent on a like-for-like exchange rate basis), China by 13.9 per cent (+16.8 per cent on a like-for-like exchange rate basis) and Japan by 39.9 per cent.
Chairman Alberto Bombassei stated: "We are very satisfied with the results for the first quarter of the year. Our achievements are due to our solid manufacturing identity. Besides announcing the company's first financial results for 2016, it is thus no coincidence that today with Brembo's directors we are celebrating the production of our hundred-millionth disc at the Polish plant in Dabrowa. This important milestone was reached thanks to the constant commitment of the entire team at the plant, which has been operating since 2006, but it is certainly a result that also rewards the work done by all of Brembo's employees throughout the world.
Executive deputy chairman Matteo Tiraboschi stated: "I share our chairman's satisfaction with these excellent results, and in particular the significant margin growth, which continues to be driven by efficient use of production capacity. I think it bears highlighting that in the second half of the year we will have to incur the ramp-up costs for the new production facilities that are starting up in Mexico and the United States, which will be fundamental to supporting the Group's future global growth."